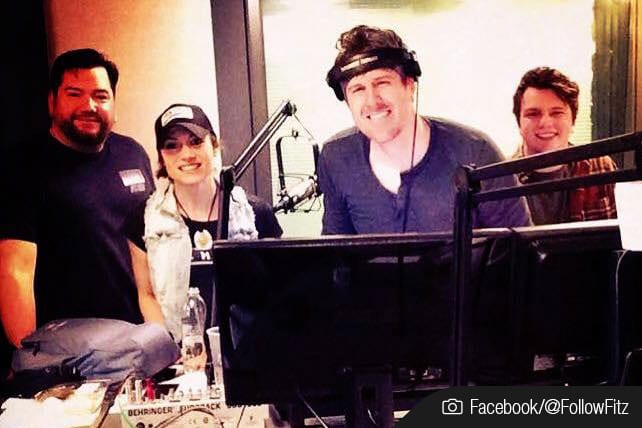 I Can Only Imagine premiers this weekend in 1,600 theaters across the U.S. The movie is based on the story behind MercyMe's 1999 song that captivated a nation. But how that happened has some of the band's own members scratching their heads to this day.
The song was a huge hit on Christian radio, but it reached heights no one could have predicted four years later when some shock jocks on an FM rock station in Dallas played the song on a dare.   
Fitz, Tony and Big Gay Steven, then-hosts of Wild 101 FM's "The Fitz Show," decided to play the song as nothing more than a joke. And when they did, something unexpected happened: The phone lines lit up with requests for "I Can Only Imagine" to be played again.

The song had already run its course in Christian radio and the band had moved on, but suddenly MercyMe was in a fascinating position, as a Christian song that was intended for praise and worship had made its way onto the secular airwaves—and people were loving it.

Soon, interest in the song snowballed and the band's record label began sending copies of it to top 40 stations across the country, challenging program managers to play it. When they did, their phones blew up as well, with the masses wanting to hear more of the Christian song.

"Word just started getting out. Our label didn't know what to do with it. How do you even promote this?" Millard told The Church Boys podcast. "They agreed to send a copy to the stations and say, 'Play it once and if you don't get a reaction just throw it out.'"

He said that those who played it quickly saw the song top their charts, with MercyMe members explaining that DJs were contacting them and saying that this was the first time in their careers that people were actually calling to thank them for playing something inspirational.
"'I Can Only Imagine' had the largest response ever in a record that I have tested," Steve Matthews, director of programming at WZNY in Augusta, Georgia, told UPI at the time. "I played the song one time and my phones were solid for the next 20 minutes. The calls were not asking me who the artist was, but to thank me for playing the song."

The song and the movie are about Bart Millard's childhood with his abusive father, Arthur. Millard, one of the members of MercyMe, told the Tennessean, "He beat me three or four times a week." When he was eight or nine, he said, his dad beat him so badly that he couldn't wear clothes and he had to miss school for two days. "I thought he was going to kill me," he said of that beating.
But Arthur found Christ and he and Bart became close…but only when Arthur was already dying of cancer. Sad as he was at his dad's illness, Bart wondered at the change in him: He finally had the dad he'd always wanted.
Arthur, known as Bub to the family, died and at his gravesite, Bart's grandmother, who had a strong faith in Christ, said of her son, "I can only imagine what Bub's seeing now."
And a song was born.