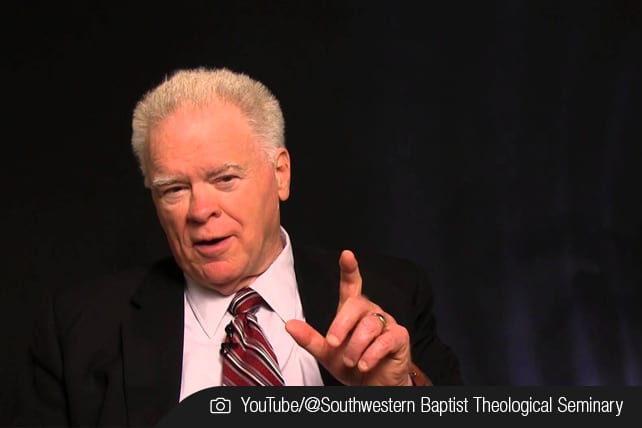 Social media is abuzz with comments about the church and domestic violence.
The cause is not a new incident; rather, it's the result of an old audio clip that has resurfaced with comments from the president of Southwestern Baptist Theological Seminary, Paige Patterson. His statements in an institutional press release and Baptist Press interview have not helped the situation.
It may seem odd to outsiders, so I thought I'd share some explanation of what's going on, why Southern Baptist leaders generally do not criticize one another, and why the comments from some of them now are more significant.
Who is Paige Patterson?
Many of my readers who aren't Southern Baptist cannot fully understand why this is happening. People have asked me, "What's going on?" and "Why is it so difficult for people to speak out clearly on this?"
The answer is in the dynamics of the Southern Baptist Convention (SBC) today.
Paige Patterson and a judge named Paul Pressler met in 1967. Over the next decade, they set out to turn the SBC in a different direction theologically. They started a grassroots movement that is one of the many reasons I am a Southern Baptist today.
They worked for years to turn the SBC toward greater conservatism, rallying around the banner of inerrancy—that the Word of God is truth without any mixture of error. This became known to many as the Conservative Resurgence and has been celebrated by many of us as a victory for almost three decades.
Judge Pressler is now being sued for alleged sexual assault and coverup. Patterson has been named as being part of a coverup. Both deny the accusations, but the situation is extremely troubling, especially since Pressler has been such a prominent figure in the Southern Baptist story.
Now, we face a troubling conversation surrounding the other prominent figure, but because of his continuing role in leadership, the situation is even more complicated.
Patterson didn't just lead a grassroots movement. He went on to serve as president of not one but two seminaries. He served two terms as president of the convention itself. He has received numerous honors, awards and more standing ovations than I can count.
He has been rightly appreciated for his service.
But this dynamic presents a challenge.
The Challenge of Paige Patterson
Because of the Conservative Resurgence and the role that he has played for decades, Patterson is one of the most significant leaders in SBC life, and one who does not often get criticized without the critic receiving significant backlash.
I know this firsthand.