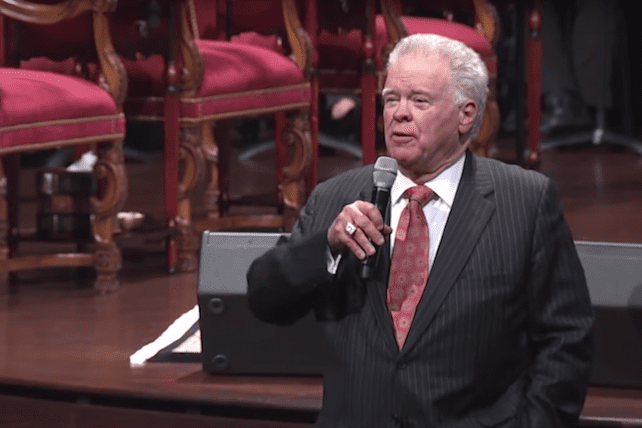 Following a 13-hour meeting, Dr. Paige Patterson has been removed as president of Southwestern Baptist Theological Seminary.
He is being replaced by Dr. D. Jeffrey Bingham, Dean of the School of Theology, to the position of interim president, pending his acceptance.
A statement from the SWBTS Board of Trustees listed no specific reason for the removal other than a desire "to move in the direction of new leadership for the benefit of the future mission of the seminary."
But the primary reason has been in the headlines for weeks with several side issues also contributing to the removal of a man described as an icon in the Southern Baptist Convention.
Allegations of 'unbiblical view of authority' led to removal of Paige Patterson
That primary reason is allegations that he once counseled women who suffered marital abuse to pray for their husbands. The Washington Post on Tuesday also reported an incident in which Patterson allegedly told a woman who said she had been raped to forgive her assailant rather than report the incident to police.
Following the initial allegations, more than 2,000 Southern Baptist women signed a public letter to SBC leaders warning them not to allow "the biblical view of leadership to be misused in such a way that a leader with an unbiblical view of authority, womanhood and sexuality be allowed to continue in leadership."
Days after the letter, Patterson issued "An Apology to God's People" saying he was sorry "to every woman who has been wounded by anything I have said that was inappropriate or that lacked clarity."
"We live in a world of hurt and sorrow, and the last thing that I need to do is add to anyone's heartache," Patterson said in the statement. "Please forgive the failure to be as thoughtful and careful in my extemporaneous expression as I should have been."
Many high profile leaders in the SBC delicately reacted to Patterson's removal on Twitter without referring to him by name.

J.D. Greear, who is running for SBC president, tweeted:
There can be no ambiguity about the church's responsibility to protect the abused and be a safe place for the vulnerable. Abuse can never be tolerated, minimized, hidden, or "handled internally." pic.twitter.com/o0K4nUGxb9

— J.D. Greear (@jdgreear) May 23, 2018
Russell Moore, head of the SBC's Ethics and Religious Liberty Commission, tweeted:
There are some things hard to figure out about how to follow Jesus, where we see through a glass darkly and sometimes aren't sure what's the right thing to do.

Protecting women and children from predators is not one of those things.

— Russell Moore (@drmoore) May 23, 2018
Malachi O'Brien, a former second vice president of the SBC, said those leaders tweeted their views but did not refer directly to Patterson out of "love and respect for Dr. Patterson" who is 75.
Decades-old grudges against Paige Patterson
He said the removal also highlights a generational shift in the SBC that has been brewing for years.