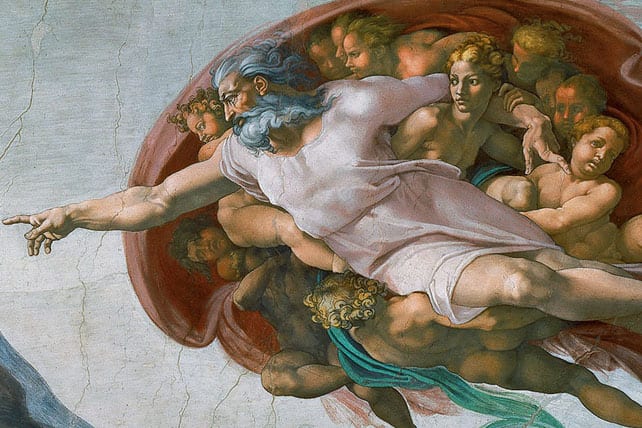 What does God look like?
It's a question that's been asked since the dawn of time. Old and New Testament writers who saw God, describe him differently.
In Revelation 1:14, John gave us a specific picture of the Almighty. "The hairs of his head were white, like white wool, like snow. His eyes were like a flame of fire,"
But later in Revelation 4:3, John's view was more figurative. "And he who sat there had the appearance of jasper and carnelian, and around the throne was a rainbow that had the appearance of an emerald."
Daniel's picture of God was similar to John's first description. "As I looked, thrones were placed, and the Ancient of Days took his seat; his clothing was white as snow, and the hair of his head like pure wool; his throne was fiery flames; its wheels were burning fire." (Daniel 7:9)
In other parts of scripture God is described as a "burning bush", "pillar of cloud" and "pillar of fire.
J. I. Packer describes these visions as not truly God but theophanies or appearances of God. "No one, though, other than Jesus Christ (John 1:18), has seen God in all of His glory. Even the seraphim in heaven cover their eyes as they worship God (Isaiah 6:1–4)."
When asking, "What does God look like?, consider that the Bible refers to the invisible God.
"Christ is the visible image of the invisible God…For God in all his fullness was pleased to live in Christ" (Colossians 1:15, 19).
Moses said, "Please show me your glory." And he said, "I will make all my goodness pass before you and will proclaim before you my name 'The Lord.' And I will be gracious to whom I will be gracious, and will show mercy on whom I will show mercy. But," he said, "you cannot see my face, for man shall not see me and live." And the Lord said, "Behold, there is a place by me where you shall stand on the rock, and while my glory passes by I will put you in a cleft of the rock, and I will cover you with my hand until I have passed by." (Exodus 33:18-23)
"No one has ever seen God, but the one and only Son."  (John 1:18)
The biblical admonition that we can't know what God looks like doesn't keep us from imagining. Not surprisingly, many envision God to look like them.
Psychologists ask, 'What does God look like?'
Psychologists asked more than 500 U.S. Christians "What does God look like?" using a new technique.