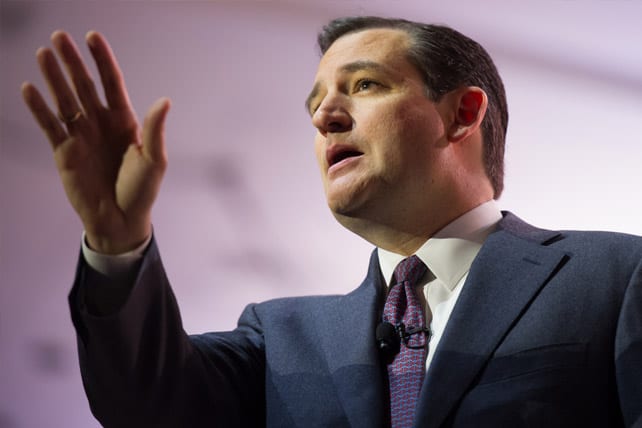 Amid bipartisan cries to fix an immigration policy that separates children from parents, Senator Ted Cruz has announced a plan to introduce comprehensive "emergency legislation" that will keep families and parents together after they are detained for trying to illegally enter the country.
He calls it the Protect Kids and Parents Act and promises to introduce it this week.
The bill would double the number of immigration judges to 750 and mandate that illegal immigrant families be kept together, unless there has been "aggravated criminal conduct" or threat of harm to the children, according to Cruz's office.
The new legislation would also authorize new temporary shelters for immigrant families, and provide for expedited resolution of asylum claims within 14 days.
In a statement, Cruz said: "All Americans are rightly horrified by the images we are seeing on the news, children in tears pulled away from their mothers and fathers," Cruz said. "This must stop. Now."
Cruz said children are often the biggest victims of illegal immigration.
"Repeatedly, I have visited detention facilities tragically housing young children. For far too long, children have been the greatest victims of our broken immigration system, with tens of thousands of children who were detained under the Obama Administration and continuing through today, and with far too many of those children facing horrific physical or sexual assault from criminal human traffickers."
"The answer is not what congressional Democrats are proposing: simply releasing illegal aliens and returning to the failed policy of 'catch and release,'" Cruz said. "Rather, we should fix the backlog in immigration cases, remove the legal barriers to swift processing, and resolve asylum cases on an expedited basis.
"While these cases are pending, families should stay together. Children belong with their mothers and fathers."
All 49 Senate Democrats are supporting the The Keep Families Together Act, introduced by Sen. Dianne Feinstein, D-Calif.
It has a higher standard for separating kids at the border, and would generally only allow the practice if "there is evidence of parents abusing the children or children being trafficked." Under the Democrats' bill, "[s]eparation could only happen after consultation with a child welfare expert."
Cruz's announcement came shortly after Homeland Security Secretary Kirstjen Nielsen told the White House press corps that Congress needed to act to ensure children were not separated from their parents.
"Congress alone can fix it," Nielsen said. "This entire crisis, just to be clear, is not new. Currently, it is the exclusive product of loopholes in our federal immigration laws that prevent illegal immigrant minors and family members from being detained and removed to their home countries."
The administration maintains that the so-called Flores consent decree—crafted during former President Bill Clinton's administration—is what prohibits them from keeping parents and children together during these prosecutions, by limiting how long children can remain in federal custody.
Cruz is facing a challenge from Democratic Rep. Beto O'Rourke, who has made immigration a key part of his campaign, including calling for the family-dividing policy to end and holding a protest Sunday at the site of one of the tent cities housing children separated from their parents.