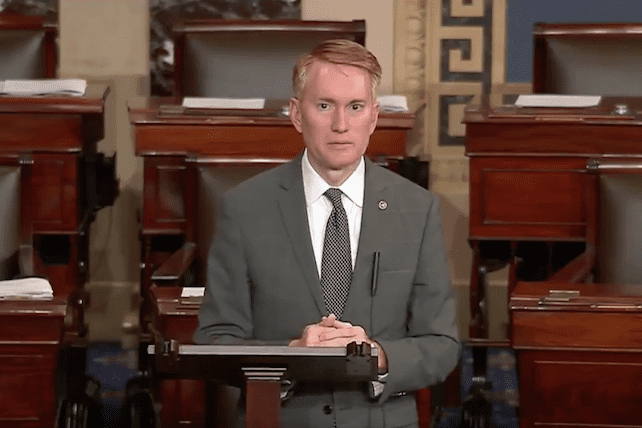 Senator James Lankford (R-OK) recently sat down to chat with ChurchLeaders about immigration reform. Many evangelical leaders have expressed concern over the Trump administration's approach to these reforms, from indicating an end to DACA to the latest zero tolerance policy at the southern border, a consequence of which leaves children separated from their parents.
Before running for office, Senator Lankford served in ministry. A graduate of Southwestern Baptist Theological Seminary, Lankford served as the student ministries and evangelism specialist for the Baptist General Convention of Oklahoma, and also as the director of youth programming at the Falls Creek Baptist Conference Center in Davis, Oklahoma.
---
ChurchLeaders: There is a growing outrage about immigrant children being taken away from their parents. What is your position on this?
Senator James Lankford: I understand the outrage and frustrations of many Americans who are watching this unfold. I have the same frustrations. Whenever we can, the government should always keep families together. I can't even imagine what the children must be enduring without their parents.
CL: How did we get to the point where we're at today?
SJL: We are here today because of past failed legislation attempts and because some administrations utilized prosecutorial discretion in ways this Administration has decided not to do. Current law encourages the DOJ to not prosecute those who cross the border if they bring their children because the children cannot be held long-term while the parent is in prison. As a result, prior administrations have decided to simply deport the parents and children instead of prosecuting those who have intentionally and knowingly broken the law. Since this administration has decided to prosecute all those who illegally enter the U.S., more adults now face prosecution and their children face separation.
CL: How do we move forward?
SJL: Congress has got to enact immigration reforms to address DACA, border security and how we deal with those who enter the U.S. without permission. There should be a way to enforce the laws, discourage illegal immigration and not separate families at the border. Every year America grants citizenship to about 1 million people. Each year over half a million people enter the U.S. legally without issue just through the southern border. Our legal immigration system is far from perfect, and it is slow at times, but it does work. The best way to fix the issues of family separation and legal immigration is for us to fix our broken legal immigration system and encourage all people wishing to come here to do so through the legal process.
CL: How can Christian leaders help lead the way in dealing with immigration reform?
SJL: The best thing that Christian leaders can do is help their people understand the immigration process, which is helping people understand how asylum works and doesn't work. If an immigrant is facing economic issues I understand and sympathize with that, but that's not how our system works; our system works when people are seeking asylum, not relief from economic hardship.
CL: Will this issue be solved anytime soon?
SJL: The best thing that people can do is call their legislator and ask them to push to get this issue solved because there is no legislative deadline; a legislative bill will have to be introduced to solve it.
CL: What are you doing to solve the issue?
SJL: Last year I introduced a bill to solve the issue with the help of people like Rev. Samuel Rodriguez. Unfortunately, the bill didn't pass. There were four bills that were introduced during the same time that didn't pass. I was also the first Republican senator to speak out against the zero tolerance family separation policy. As a former Evangelical pastor, my desire is to solve and fix this problem as soon as possible.
CL: There are reports of those seeking asylum being turned away from points of entry where they should be able to make their case legally. Why is this happening?
SJL: The only reason why this should be happening is because the person is not going to the next neighboring country. For example, if someone is from El Salvador, they should be going to Costa Rica or Belize—not straight to America. Thirty percent of the people who are seeking asylum are admitted; that number was the same under President Bush and Obama.