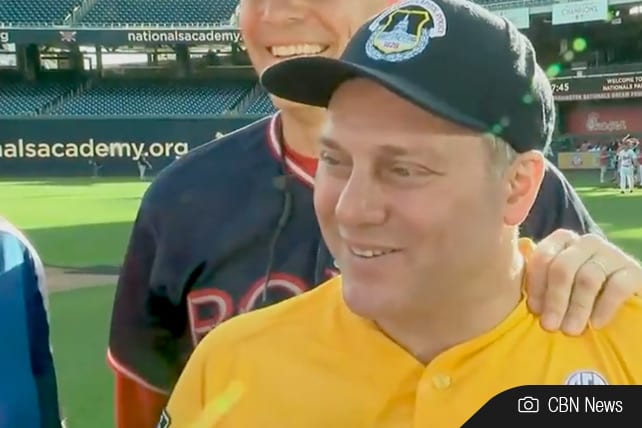 One year ago Rep. Steve Scalise was shot by a gunman while practicing for a baseball game among lawmakers. He almost died.
Last week, he fielded the first play of the game from his position at second base in the annual congressional baseball game. After throwing the runner out, he pointed to the heavens.
"To think that after nine surgeries and everything I get to be back out here with my colleagues, God bless America," he said.
Scalise credits the Lord for his recovery and his life.
"I almost lost my life, and through God's grace and the marvels of medicine I'm here," Scalise said.
Doctors doubted whether Scalise would live through the night let alone play baseball again. He told CBN News a few months ago he knows this was all a part of God's plan for his life.
"It was tough," recalled Scalise. "A lot of those dark days, just to lean back on the strength of God and not question what happened but to be able to focus on just getting better—that's what God has provided me."
"I can tell you, the power of prayer is real," says Scalise. "It's powerful and it was incredibly helpful to give me the strength I needed to come back."
Throughout the ordeal, Scalise has credited God for standing by him and answering his prayers including the presence of a fellow lawmaker who served as a combat surgeon in Iraq who administered first aid and a traffic jam that forced him to take a helicopter to the hospital. The trip only took four minutes. Scalise said, "I would not have made it to GW if not for that helicopter."
Scalise said he also prayed for his 10-year-old daughter Madison: "The first thing that came to my mind was, 'God, please don't let Madison walk up the aisle alone," he told an audience. "Then I started praying for the ability to see my family again."
Three others were shot that day, and miraculously, all four were on the field at this year's game.