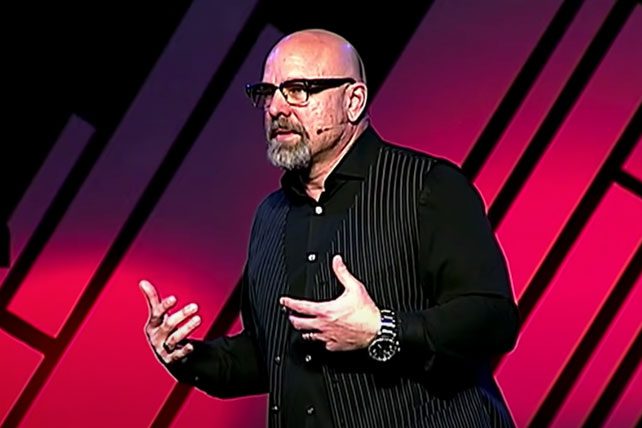 This story of Duane Miller's healing is, well, almost too miraculous to believe. Incredibly, though, it was caught on an audio recording.
As Pastor Matt Fry of C3 Church in North Carolina explains in the following video, Miller was a pastor in Texas who got sick with something like the flu. This particular flu was so severe that it attacked Miller's vocal cords and left him without much of a voice. Miller was so desperate to recover his voice, he consulted over 200 doctors, including 63 specialists. All to no avail.
A year after losing his voice, Miller had to step down from his position at his church and went through great difficulty as he tried to find a different job he could do without the use of his voice. Miller and his family eventually ended up as members of a large church in Houston.
One Sunday, a Bible study teacher wasn't able to teach due to sickness, and knowing Miller's background, the church asked him to teach the class. Miller was hesitant at first, but eventually agreed and was outfitted with a special microphone that would be able to pick up whatever sound he was able to produce.
It just so happened that the lesson queued up for that week was on Psalm 103—which speaks of the fact that God heals our sin, but doesn't always heal our physical bodies.
At about [4:30] in the following video, you'll hear the voice Miller had grown accustomed to speaking with for three painful years—strained and barely audible. Yet as he is speaking of the Lord's goodness and explaining that God still performs miracles in our day and age, something incredible happens. All of the sudden his voice loosens and he is able to speak clearly.
Miller's shock is audible and so is the crowd's. You can hear nervous laughter in the audience as the room starts to realize what is happening before their very eyes. Miller resumes talking—hesitantly at first. "I don't understand this right now…I'm a bit overwhelmed at the moment…I'm not quite sure what to say or do." More gasps and curious laughter from the crowd. "Sounds funny to say: I'm at a loss for words!"
As he realizes what is happening, though, Miller breaks out with a "Thank you Lord." You can hear him choke up (with emotion this time) as he does the only thing he can think to do: Read the Scripture with his newly recovered voice.
Honestly, you have to hear it for yourself to grasp the full significance. It's nothing short of hearing God perform a miracle in real time.
Read more about this amazing event in Miller's book Out of the Silence.
Want more inspirational stories? Check out the latest on FaithIt.