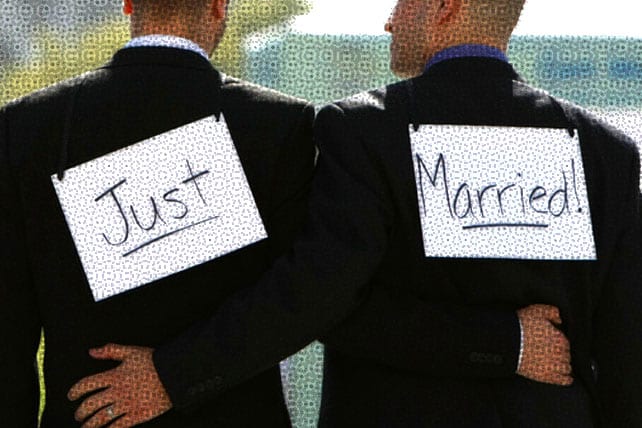 The last time the Episcopal church met as a whole, in 2015, the church assembly voted to bless same-sex unions, but dioceses that wanted to remain true to biblical teaching were allowed to refuse to conduct the ceremonies.
That changed last week when the church voted to force all Episcopal churches to allow gay and lesbian couples to "marry" in the church.
The edict had overwhelming support.
The majority of the American Episcopal Church (93 dioceses) already allows gay marriage in their churches. This vote affects eight dioceses that did not allow for religious ceremonies to be conducted inside their sanctuaries.
Individual priests may decide whether or not to religiously bless any particular marriage ceremony. But should a priest refuse to bless a ceremony, the higher clergy—the bishop, in this case—will be obligated to suggest another priest to do the job.
A previous version of the resolution would have made gay marriage a component of official theology by the insertion of new liturgies in the Book of Common Prayer. It was shelved over fears that those opposed to same-sex marriage for biblical reasons would have ensured their departure from the denomination.
But the compromise brought complaints. A few convention delegates who supported the blessing of same sex marriage worried that LGBT Episcopalians may feel like inferior citizens without the official adoption of new marriage liturgies within the Book of Common Prayer. Several Bishops felt that the liturgies would eventually be added.
Not all bishops were enthusiastic about the resolution. Some expressed grave concern that the move undermines their authority and could lead to a schism within the Episcopal Church.
Bishop John Howard of Florida said his diocese was still reeling from the 2003 consecration of openly gay Bishop Gene Robinson, which led some clergy and lay members to break from the denomination, according to a report by RNS. 
Episcopal Church Overwhelmingly Approves Resolution
The dissenting bishops were part of a small minority, however.  
Most voting delegates applauded the change and some likened the decision to the civil rights movement of the 1960s.
One priest said, "For 40 years our LGBT brothers and sisters have been at the back of the bus and, every so often, they are invited to move forward one row at a time."
The eight Episcopal dioceses whose local authority the resolution was crafted to circumvent are Albany, New York; Central Florida; Dallas; New York; North Dakota; Springfield, Illinois; Tennessee; and the U.S. Virgin Islands.
The resolution will not go into effect until the first Sunday of Advent, the liturgical season leading up to Christmas that starts in the fall.