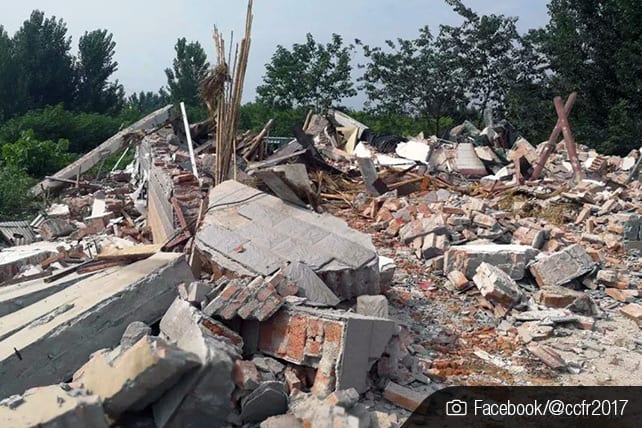 Another church in China has been reduced to rubble by the communist government.
The Liang Wang Catholic Church, a state-sanctioned church in China that has been registered since 2006, was destroyed by 70 police officers and workers who used explosives, bulldozers and pickaxes. The building was reduced to rubble in just 15 minutes.
Chinese authorities said the church was razed to make way for commercial purposes in accordance with urban zoning regulations.
It is not uncommon for Chinese authorities to destroy houses of worship for a variety of reasons. In addition to zoning concerns, churches have been torn down as part of campaigns to remove "illegal buildings."
That was reported to be the case last January when Chinese police officers demolished one of the country's largest evangelical churches where more than 50,000 Christians worshiped.
Global Times, a state newspaper, quoted an unidentified official as saying the church had been "secretly" constructed without proper permits and was initially disguised as a warehouse. Members of the megachurch, however, have previously clashed with the authorities, including in 2009 when the police confiscated Bibles and imprisoned several of the congregation's leaders.
And last December, a Catholic church near Xi'an in the Shaanxi province was destroyed despite having necessary permits.
Fear of Christians Leads to Chinese Church Demolition
Gina Goh, regional manager of International Christian Concern, said: "The disproportionate manpower used to demolish this church goes to show that China is fearful of Christians. The government knew that the demolition in the name of urban zoning would be met with resistance, so it ensured success by taking extreme measures. Despite their best efforts to intimidate the church with actions like this, the government cannot destroy the faith and resilience of Chinese Christians."
According to CBN News, the church's caretakers, Gao Rongli, Zhang Siling and Li Xiangmei, were inside the church when work crews arrived to destroy the building. They had their cell phones confiscated and destroyed allegedly to prevent the workers from contacting church members who would protest the destruction.
The Chinese Christian Fellowship of Righteousness, a U.S.-based organization that highlights Christian persecution in China, shared before and after photos of the church on its Facebook page.
Many of the church's liturgical artifacts were destroyed with the building.