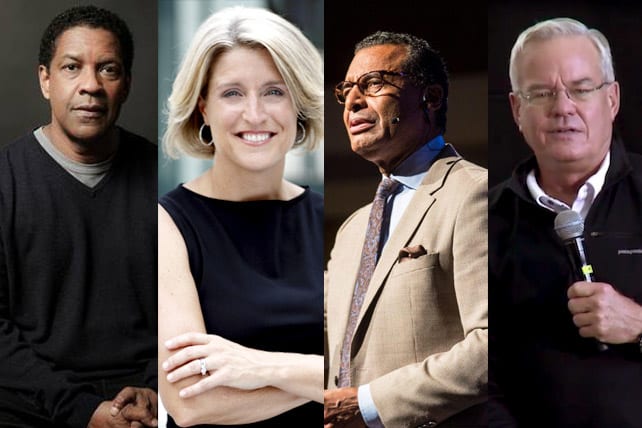 UPDATE: August 8, 2018: Churches, Speakers Pull Out of GLS at the Last Minute
On the eve of the Global Leadership Summit, a Colorado megachurch has pulled out of this years GLS citing the new investigation of Willow Creek Founder Bill Hybels.
Woodmen Valley Chapel in Colorado Springs notified those planning to attend the summit at their worship center of the 11th hour decision to withdraw as a host site.
"By now you should've received word from the Willow Creek Association regarding Woodmen Valley Chapel's withdrawal as a host site for the 2018 Global Leadership Summit," the church wrote in an email to attendees. "I'm writing on behalf of the Woodmen team to apologize for the timing of this decision and any inconvenience it may cause you.
"We are grieved by events at Willow Creek Community Church and the Willow Creek Association,"Regrettably, after much prayer and careful consideration we made the decision to cancel our hosting of this year's Summit. We feel this is an appropriate response until further investigation and information can clarify our concerns."
Woodmen Valley staff told churchleaders.com that the decision only affects this year's GLS.
Meanwhile, the Chicago Tribune reported Wednesday that another scheduled speaker had cancelled in the wake of new revelations into Hybels' tenure at Willow Creek.  According to the Tribune, author Daniel Pink will not be speaking as scheduled.
---
Although three keynote speakers have canceled and several partnering churches have pulled out, Willow Creek believes there is little evidence that this year's Global Leadership Summit is being adversely affected by the controversy surrounding Bill Hybels. Others disagree. 
Earlier this year Willow Creek's founder and senior pastor was accused of inappropriate behavior toward women. In the wake of those allegations, Hybels resigned from the church and the Willow Creek Association (WCA). He will not be at the 23rd annual summit.
Established in 1992, WCA has operated as a separate organization from Willow Creek Community Church, but Hybels always served as a prominent faculty member of its summit and its board chairman.
Earlier this month, WCA announced three speakers chose to leave the summit faculty as a result of the scandal; Academy Award winning actor Denzel Washington; A.R. Bernard, the pastor of the Christian Cultural Center in Brooklyn, New York; and Lisa Bodell, founder and CEO of futurethink. They were replaced by leadership expert and author John Maxwell; Triad Consulting Group founder Sheila Heen; founder and senior pastor of The Potter's House T.D. Jakes; and vice-chairman of Morgan Stanley Carla Harris. You can find the list of this year's speakers here.
Same Number of Churches Will Simulcast Global Leadership Summit 
WCA's website says 600 churches are partnering in the summit and showing the events via satellite. That's the same number as advertised last year, however, an unknown number of churches have withdrawn because of the allegations against Hybels.
By one individual's estimates (Benjamin Ady), 232 churches have dropped out of hosting the conference since April. Ady told ChurchLeaders he garnered this number from comparing the list of host churches in April 2018 with the current list of host churches globally as well as direct communication with others.
Ady reached out to approximately 600 churches via email asking them to consider taking a break from hosting the Summit this year in order to "show solidarity with the multiple victims of sexual assault and sexual harassment at Willow Creek Community Church" and to bring light to the Willow Creek Association's "dehumanizing response to the victims thus far". 
In a statement posted on the website for Illinois' Christ Church Oak Brook and Downers Grove, Senior Pastor Daniel D. Meyer said the church is "taking a purposeful pause" from the annual two-day leadership-building workshop because of its "high identification" with Hybels.
"Both the Christian and the American traditions have seen the value of stopping normal activities to observe a moment of silence…or to lower a flag to half-staff…or to issue a collective cry of lament—in the face of significant crisis, turmoil or loss," Meyer wrote.
"We believe that the stories of the women that are now being told are deserving of this pause to listen, reflect and change," Meyer added. "We feel that unless we stop to listen, some stories that need to be heard will not be told and we as a community will lose the opportunity those voices can give us to become more compassionate, just and holy."
Grace Church in Ft. Myers, Florida, also backed out as a partnering church. Pastor Jorge Acevedo told his congregation he was afraid the coalition would harm his church.
"There is one primary reason. After careful and prayerful consideration, your pastors are concerned that even with Bill's absence at the Summit, the unresolved accusations create a cloud of suspicion over the Summit. We in no way want to endanger the integrity and reputation of Grace Church."