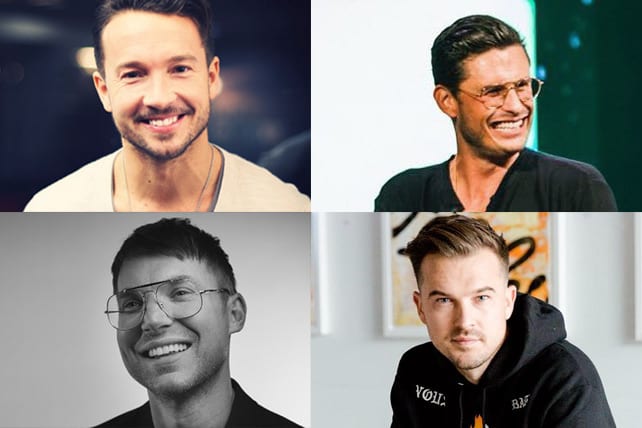 What do Hillsong NYC, Vous Church, Churchome and Zoe Church have in common besides Justin Bieber's sporadic presence at their services? All four churches hail from the same theological tradition, have lead pastors around the same age, and have a dizzying social media presence.
"Instagram built our church," says Chad Veach of Zoe Church in Los Angeles, California.
All hailing from the Pentecostal tradition, a denomination which sticks to pretty conservative views when it comes to hot-button social issues such as homosexuality and abortion, these churches have managed to walk a very curious road of appealing to the broader culture. Their pastors have also managed to avoid directly answering questions about their positions on tricky topics. Their aim is to reach "those far from God," including celebrities and their fans.
While there are differences between the four churches, they are most similar in their message to the people they're trying to reach: We won't ask you questions about your lifestyle. Just come to church. Judging by their social media pages, the key to appealing to culture is to make church look fun and hipster.
The Rise of Zoe Church
Veach hails from the greater Seattle, Washington, area, where his father continues to serve as an administrator of the Foursquare Church, overseeing some 200 churches. Getting his start by working under Judah Smith of Churchome (previously called City Church in Seattle), Veach made the move down to Los Angeles in 2014 to start his own church.
What has become a common thread among a lot of young churches, Zoe started in an unconventional place: a nightclub called 1 Oak. Before that, the group met in houses. Now the church meets at the El Rey Theater on Wilshire Boulevard.
Veach estimates the church's Instagram audience of 65,000 brings in about 1,600 physical attendees to the church's services each week. So what exactly is so drawing about the church's Instagram account?
A brief swipe-through of Zoe's Instagram feed produces professional-looking shots of people looking as if they're genuinely enjoying church. Nothing but smiles. And coffee. From baptism to fellowship time to worship, my goodness it all looks so polished.
In addition to the church's Instagram page, Veach's personal page is public and only slightly less polished than the church's page. Plenty of pictures of Veach's children and household-name friends adorn his account.
It's very clear Veach is trying to appear approachable and relevant, and more important, that he won't judge anyone. "Our church is a place where our doors are open to people of all backgrounds—regardless of where they are at in their journeys—and we hope all feel welcomed, comfortable and loved," Zoe's homepage reads.
Appearances by celebrities on the church's Instagram account and services don't hurt attendance, either. Actor Chris Pratt regularly attends Zoe, and even promoted Veach's book on his personal Instagram account. Pratt has been seen at services with his girlfriend, Katherine Schwarzenegger, daughter of Arnold Schwarzenegger and Maria Shriver.