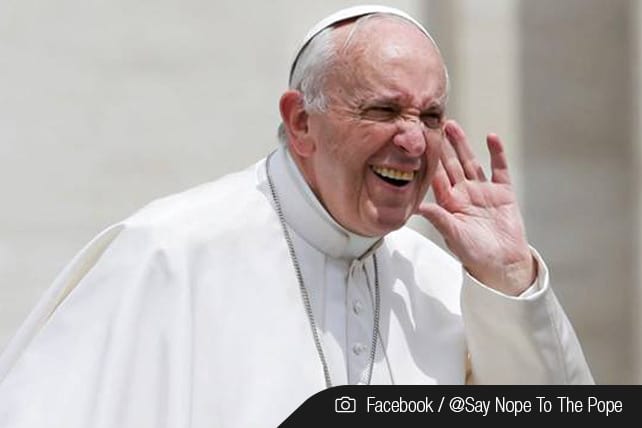 Furor over an investigation that revealed hundreds of children were abused at the hands of more than 300 priests in Pennsylvania dating back to the 1940s has spurred a protest against a planned mass in Dublin by Pope Francis.
A movement called "Say Nope to the Pope" has people applying for free tickets for this weekend's mass with no plans to attend. Organizers hope the the sight of thousands of empty seats will be an effective silent and peaceful protest.
The campaign is urging its supporters to join survivors of clerical abuse for vigils on Sunday at the time of the mass.
The group's Facebook page has 1,132 members with another 10,000 claiming to be attending or interested in the protest.
But it will be hard to determine just how many are taking part in the protest. News reports say some people had booked hundreds of tickets with no intent on filling the seats.
The Guardian reported, "One person claimed to have secured 1,312 tickets to the events, including several under the name "Jesus Christ," and by booking coach loads of people under false transport company names.
"Another posted on the campaign's Facebook page: 'I have booked 800 tickets using three different email addresses. Some people have 50 or 60 tickets. We are just doing this simple, peaceful act of protest as resistance to the Catholic church recruiting in Ireland.'"
The campaign is being criticized by Leo Varadkar, the taoiseach, or prime minister, of Fine Gael, as "petty and mean-spirited."
He suggested it would deny seats to people who wanted to attend the mass but couldn't get tickets because protesters were hoarding them.
"Protest is legitimate and OK, but denying other people the opportunity to attend a mass or an event is not legitimate protest in my view and is most unfair. It should be condemned," he said.
Half a million tickets were available to the public for the mass, with a further 45,000 for the papal visit to the Marian shrine in Knock.
Say Nope to the Pope Wants Church to Listen
Mary Coll who applied for two tickets but has no intention of attending the mass told the Guardian:
"This is not an anti-religion thing, it's not about disrespect for people's beliefs or their right to practice any particular belief. It's about people like myself who were raised as Catholics, who were practicing Catholics, who suddenly went: 'Hang on a second, these are terrible wrongs we're hearing about.' And we waited and we waited, and the church did nothing," she said.
"There are no channels of protest within the church. The church is not interested in feedback. It's not an organization where you can fill in a questionnaire on its service. They do things their way and they're really not interested in what you think about it."
Earlier this week, Pope Francis acknowledged "with shame and repentance" the Catholic Church's failure to act over sexual abuse by clerics against minors going back decades, writing "we showed no care for the little ones; we abandoned them."
The Pope has made no mention of the abuse outside of his letter.
The protest is also being fueled by growing secularism in Ireland. In May, the country voted to legalize abortion, a stunning rebuke to the Catholic Church that campaigned heavily against the proposal.