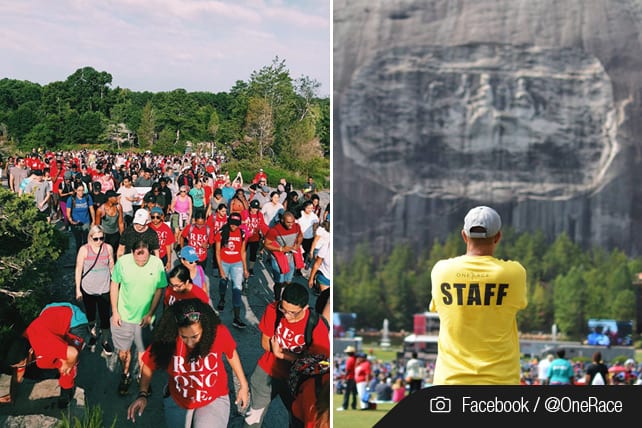 Christians from all races and denominations climbed to the top of Stone Mountain, outside Atlanta, Georgia, to pray for racial reconciliation on Saturday.
Just 100 years ago the KKK used the same spot to burn crosses atop a mountain that now features heroes of the confederacy etched in stone.
"A lot of voices in society and politics are speaking about divisions in the nation, but we don't hear much from the church," said Billy Humphrey, co-founder of the OneRace movement and director of Atlanta's International House of Prayer. "At times, the church has been on the sidelines. At times, the church has been silent. We can't be silent anymore."
Humphrey said it was time for the "church," in a figurative sense, to "take a stand for love and unity around the cross of Jesus."
The OneRace movement began about two years ago with about six pastors—black and white. That grew, eventually reaching 250.
"The issue of racial healing is very, very important," said Bishop Garland Hunt, senior pastor of The Father's House in Norcross, Ga., and co-executive director of OneRace. "Our country is divided and the church is, unfortunately, divided out of frustration and pain."
Organizers of OneRace Stone Mountain said more than 12,000 people had registered to attend, although it's unknown how many actually showed up for the one-day event.
Those who were on hand were also asked to sign the Atlanta Covenant that states in part:
"We covenant to stand against racism in every form, never again allowing it to gain a foothold within our spheres of influence.
"We covenant to publicly and privately declare that all people are made in the image and likeness of God, through preaching and practice, affirming the dignity and value of every person regardless of culture or gender.
"We covenant to faithfully proclaim the gospel of Jesus Christ, which espouses the values of righteousness and justice, the reconciliation of God and man, and the reconciliation of man, one to another."
Organizers Hope to "De-politicize" Racial Reconciliation
The event took place just days after the destruction of the "Silent Sam" Confederate monument at the University of North Carolina but organizers said they wanted to "de-politicize and bring restoration and healing at the largest Confederate Monument in the world."
For that reason both Humphrey and Hunt were reluctant to delve into politics.
"We don't want to make this political because that's a measure to divide," said Hunt, who has known Humphrey for about two decades. "Jesus didn't die for us based upon our political positions."
Humphrey told CBS46 Saturday's event was about prayer and healing among Christians of different backgrounds and denominations.
"There's a lot of people that want to bring division, but there's another answer. It's Jesus Christ," said Humphrey, "and he's the one who brings us together in love around the cross and in unity."
Both the top of the mountain and the grassy area at the base were packed with people, some wearing T-shirts that said "Reconcile" or "Repent" and others carrying signs and banners that read "Let Justice Flow" and "God We Repent."
"This is a powerful moment to see 200-plus churches come together," Tara Teuta of Snellville told the Atlanta Journal Constitution, who said she has friends who refuse to come to Stone Mountain because of its history. "Martin Luther King's dream was to see this. I love it."