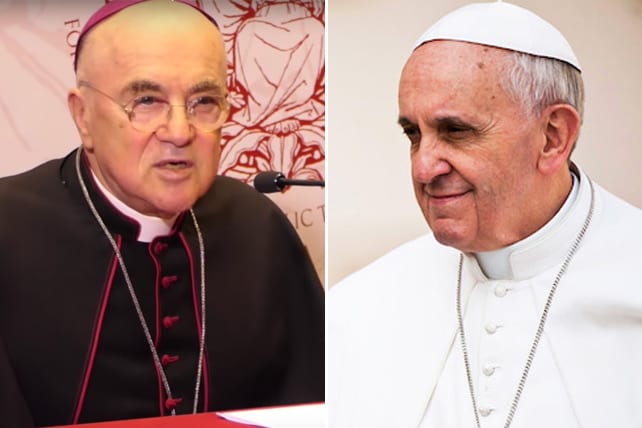 Pope Francis has been covering sexual abuse in the Catholic Church for years and must resign.
That's according to a prominent priest whose bombshell missive is threatening to split the Church.
Archbishop Carlo Maria Vigano, who served as the papal nuncio (that is, Vatican ambassador) to the United States from 2011-2016, claims Pope Francis has known for years about Cardinal Theodore McCarrick's sexual abuse, but brought him into the pontifical inner circle anyway, and sent him around the world on papal missions.
One month before a Pennsylvania grand jury found that hundreds of priests in the state had sexually abused as many as a thousand children, Cardinal McCarrick, the former archbishop of Washington, resigned amid accusations that he had sexually abused children and adults for decades.
In a lengthy statement, Vigano charges that the "corruption has reached the very top of the Church's hierarchy" and demands the resignation of Pope Francis, writing:
"At the Angelus on Sunday, August 12, 2018, Pope Francis said these words: 'Everyone is guilty for the good he could have done and did not do… If we do not oppose evil, we tacitly feed it. We need to intervene where evil is spreading; for evil spreads where daring Christians who oppose evil with good are lacking.'
"If this is rightly to be considered a serious moral responsibility for every believer, how much graver is it for the Church's supreme pastor, who in the case of McCarrick not only did not oppose evil but associated himself in doing evil with someone he knew to be deeply corrupt. He followed the advice of someone he knew well to be a pervert, thus multiplying exponentially with his supreme authority the evil done by McCarrick. And how many other evil pastors is Francis still continuing to prop up in their active destruction of the Church!
"Francis is abdicating the mandate which Christ gave to Peter to confirm the brethren. Indeed, by his action he has divided them, led them into error, and encouraged the wolves to continue to tear apart the sheep of Christ's flock.
"In this extremely dramatic moment for the universal Church, he must acknowledge his mistakes and, in keeping with the proclaimed principle of zero tolerance, Pope Francis must be the first to set a good example for cardinals and bishops who covered up McCarrick's abuses and resign along with all of them."
Archbishop Vigano Told Pope Francis of Sexual Abuse
Vigano says he told Francis on June 23, 2013, that McCarrick was a serial predator.
There were multiple reports that McCarrick, who was an Archbishop at the time, "shared his bed with seminarians," inviting five at a time to spend the weekend with him at his beach house. And he added that he knew a certain number of seminarians, some of whom were later ordained priests for the Archdiocese of Newark, who had been invited to this beach house and had shared a bed with the Archbishop.
Vigano wrote that "homosexual networks present in the Church" buried the reports until "the heartfelt appeals of dozens of his seminarians" who found the courage to write to church leaders "after one of them tried to commit suicide over homosexual abuse in the seminary."
Vigano also claims that Pope Francis ignored the warnings, sent McCarrick on speaking engagements around the world and suggests he saw a place for practicing homosexual priests within the church. He makes that inference from a meeting he had with the Pope in 2013, immediately after hearing that McCarrick would be travelling to China to represent the Vatican.
"I began the conversation, asking the Pope what he intended to say to me with the words he had addressed to me when I greeted him the previous Friday. And the Pope, in a very different, friendly, almost affectionate tone, said to me: "Yes, the Bishops in the United States must not be ideologized, they must not be right-wing like the Archbishop of Philadelphia (the Pope did not give me the name of the Archbishop), they must be shepherds; and they must not be left-wing—and he added, raising both arms—and when I say left-wing I mean homosexual." Of course, the logic of the correlation between being left-wing and being homosexual escaped me, but I added nothing else."
Meanwhile, reaction to Vigano's letter is being hotly debated inside the Church in what some describe as a "civil war." And Austin Ruse of the Center for Family and Human Rights wants President Trump to recall the American ambassador to the Vatican until the Vatican turns over all of its files pertaining to McCarrick adding, "It is clear that the Vatican covered for a sexual predator who assaulted young Americans."