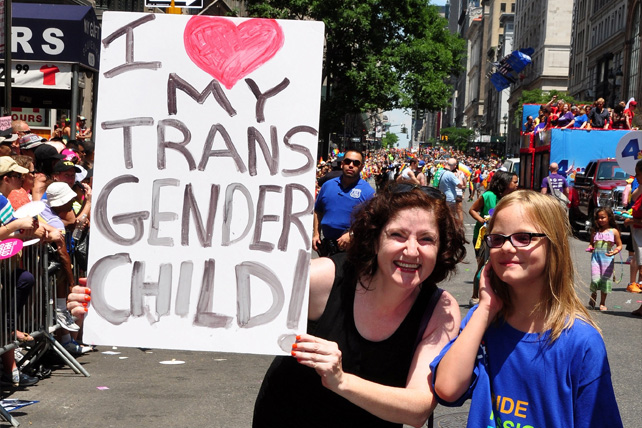 On September 14, California Governor Jerry Brown signed into law Assembly Bill 2119, guaranteeing that gender-dysphoric youth in the state's foster care system can have sex-change treatment paid for by Medi-Cal, the state-sponsored health insurance system.
The controversial bill guarantees "the right of minors and non-minors in foster care to…gender-affirming health care and gender-affirming mental health care." Todd Gloria, the Democratic Assembly Member who introduced the bill in February, said it "affirms the right of foster youth to be able to access health services reflective of their gender identity—meaning these children can grow up safe, healthy, and be exactly who they are meant to be." Gloria, who is openly gay, had support from many LGBT advocacy groups.
Opponents to the bill included the California Family Council, the American College of Pediatricians and the National Task Force for Therapy Equality. Critics said the law overrides the authority of biological parents, mandating that county welfare agencies provide transgender counseling, drugs and surgery to foster children struggling with their gender identity. The law also prohibits counseling from any professionals who might try to align "a child's or non-minor dependent's assigned sex at birth and gender identity." 
The Physical Effects of Gender Transition Treatment
Physicians who opposed AB 2119 emphasized that puberty-blocking drugs aren't FDA-approved and haven't been rigorously tested, so their long-term effects aren't known. In testimony before the California Senate, endocrinologist Michael Laidlaw said the hormones stunt children's sex organs, leaving them unable to reproduce. "Stopping puberty early leads to complete sterility, complete infertility and…sexual dysfunction," he said.
The high-dose hormones involved with gender transition carry many physical risks. According to the World Professional Association for Transgender Health "Standards of Care," these include various cancers, type 2 diabetes, cardiovascular disease, bone loss and more. The Standards of Care note that "no controlled clinical trials of any feminizing/masculinizing hormone regimen have been conducted to evaluate safety or efficacy in producing physical transition."
The Emotional Effects of Gender Transition Treatment
In his Senate testimony, Dr. Laidlaw emphasized that children undergoing gender-transition treatment "don't have the capacity at that young of an age to understand what's going to happen to them." California's bill misses the mark, he said, because "doctors and psychologists have absolutely no way of diagnosing with certainty who is a true trans child and who has gender dysphoria or confusion with underlying mental health and endocrine problems."
Added to that mix are the uncertainty and trauma many foster children already face due to unstable living arrangements. As a recent study showed, emotional or mental health problems and traumatic events are factors in rapid-onset gender dysphoria.
According to a fact sheet from the American College of Pediatricians, "As many as 88 percent of gender dysphoric girls and 98 percent of gender dysphoric boys will identify with their biological sex by late adolescence with watchful waiting and/or therapy that affirms a child's sex."
Dr. Michelle Cretella, president of the American College of Pediatricians, has spoken out against "transgender ideology in schools," calling it "psychological abuse that often leads to chemical castration, sterilization and surgical mutilation."
You can watch Dr. Laidlaw's argument against gender transition treatment for children in this video: