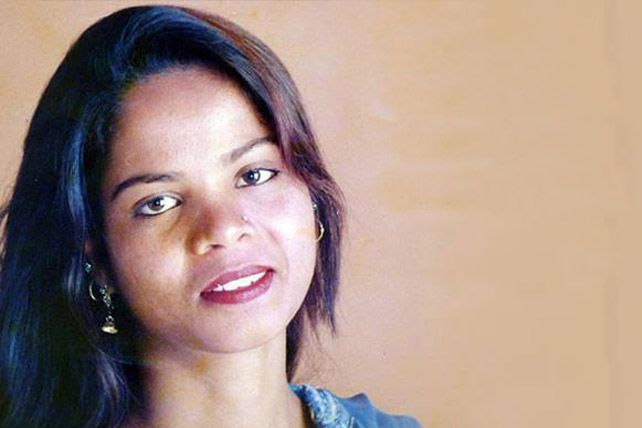 After nine years in prison, a Pakistani Christian woman has been acquitted of blasphemy against Islam, a crime punishable by death in Pakistan.
"A miracle just happened," Frank Gaffney, a founding member of the Save the Persecuted Christians (STPC) Coalition. "The Supreme Court of Pakistan ruled today that Asia Bibi, a Christian woman falsely accused of blasphemy—a capital offense under Islam's totalitarian Sharia code—is not guilty."
Gaffney also acknowledged the risk the judges who ruled favorably of Bibi would have taken to announce her acquittal. "Particularly miraculous was the courage of the three Pakistani justices who know full well that, in freeing Mrs. Bibi, they have probably signed their own death warrants. Other senior officials there have been murdered simply for speaking up for her and against blasphemy restrictions."
Asia Bibi Was Sentenced to Death
Bibi, a wife and mother, was arrested in 2009. As the Catholic Herald explains:
Asia Bibi's "crime" was to drink water from a supply used by Muslims. As a farm worker, she was in the fields alongside Muslim women when she took a drink of water. They objected because she was an "unclean" Christian. Beaten by an angry mob, she was rescued by police, but a few days later she was accused by a local imam, who had not been present at the incident, of insulting Muhammad. She was sentenced to death under Pakistan's stringent blasphemy laws a year later.
In the beginning of October, Bibi's husband, Ashiq Masih, visited his wife in prison and told reporters she was "psychologically, physically and spiritually strong" and that she "is ready and willing to die for Christ." Ashiq said his wife was reading the Bible every day and praying. "She also wanted to deliver a message to the international community that they must remember her in their prayers. These prayers will open the door of the prison, and she will be released very soon," Ashiq said.
It appears the prayers of Bibi and the international Christian community have been answered, although the road has been a harrowing one. Any advocates of Bibi have been threatened or killed. In 2011, Salmaan Taseer, the governor of Punjab, was assassinated after saying he would fight for her acquittal and release. Additionally, Minority Affairs Minister Shahbaz Bhatti, a Christian himself, was murdered after he indicated he would work to reform the blasphemy laws.
The Danger's Not Over Yet
The acquittal sentence was decided in court on October 8, 2018, but was delayed due to threats of violence from angry mobs. According to the Catholic Herald, militant Muslims have offered 500,000 rupees (almost $4,000) for her murder.
As Gaffney explained on his Secure Freedom Minute radio program, "we must now pray for a few more miracles" for Bibi as extracting her from the prison will require a "stealthy" operation to ensure her safety. Indeed, it is critical Christians around the world continue to pray for Bibi's situation and those involved. As Dede Laugesen of STPC states, "We are also concerned for the safety of the judges, her lawyer and innocent Christians who may be harmed in retribution for her release. We will watch closely to see how Pakistan responds to ensure safety for her and its other Christian citizens."
---
UPDATE: Read about the massive protests sparked by the court's decision to acquit Asia Bibi.