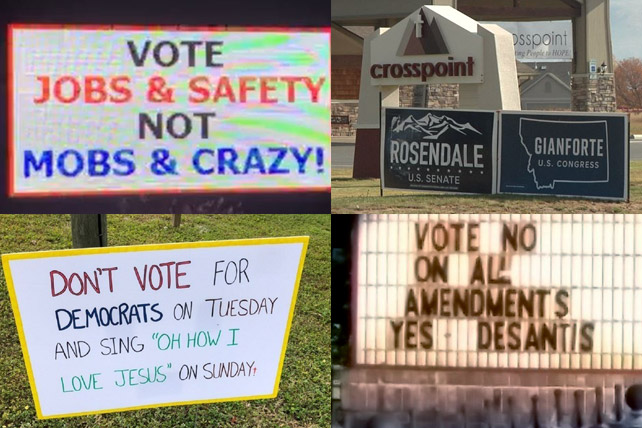 As the contentious midterm elections approached, some churches pushed legal boundaries by displaying campaign-related signs and slogans. Although U.S. tax code prohibits churches and other non-profit organizations from engaging in politics, IRS enforcement in that area has been lax, experts say.
Adding to the concerns of community members and local officials, several churches that broadcast political messages also served as polling places. On Election Day, for example, a roadside LED sign outside Providence Bible Church in Monroe, Virginia, flashed the words "Vote Jobs & Safety Not Mobs & Crazy"—with the first portion in red and the second in blue. Almost 2,000 citizens cast their ballots at the church.
When she arrived to campaign nearby for Democratic candidates, Sharon Jackson contacted the county elections board about the sign. Within a few hours, the message disappeared. Jackson said it was "inappropriate, partly because [the church is] a place to vote."
James Dean, in the area campaigning for Republicans, said the sign "didn't mention any parties or names." However, it echoed the #JobsNotMobs hashtag used by President Trump and his supporters.
Tuesday in New Port Richey, Florida, where The Grace of God Church serves as a polling place for Pasco County, the church posted on Facebook a photo of a sign reading "Don't vote for Democrats on Tuesday and sing 'Oh how I love Jesus' on Sunday." Commenters cried foul, while the page administrator wrote, "God's dedicated property does not change on the first Tuesday of [November] every two years," adding, "I'll risk losing our [non-profit status] and honor our sacred rights to free speech."
Brian Corley, the county elections supervisor, said his authority ends 100 feet from a polling place, meaning a Facebook post is essentially "private property." But the pastor's refusal to remove the post means the facility won't be used as a future polling place, Corley noted.
More Examples of Election-Related Advocacy
Neighbors of Crosspoint Community Church in Missoula, Montana, were unhappy about campaign-related signs displayed on the church's front lawn. "I think the church should be a neutral field," says resident Rodger Clixbi.
Crosspoint pastor Bruce Speer says his congregation takes a pro-life stance, calling it a "key moral truth." He adds, "We are not Republican or Democrat. Our party is Christian. It wouldn't matter if it was a Democrat; if he was pro-life, we would support him."
A sign outside First Conservative Baptist Church in Jacksonville, Florida, prompted an online petition to revoke the congregation's tax-exempt status. The lighted sign reading "Vote no on all amendments, yes on DeSantis" (the Republican running for governor) prompted resident Cate Dobbins to launch a petition on Change.org. It accuses the church of "continually and purposefully" violating the law about 501(c) (3) organizations.
The IRS Code Is Clear but Rarely Enforced
About non-profit organizations, the Internal Revenue Code prohibits "directly or indirectly participating in, or intervening in, any political campaign on behalf of (or in opposition to) any candidate for elective public office."
Churches that post political messages are clearly violating U.S. tax code, says law professor Anthony Johnstone, yet they may not face consequences. "That's an area of federal tax law that the IRS has not shown much interest in enforcing, particularly in recent years," he says. Plus, signs generally represent a fairly low level of political engagement, Johnstone notes.
To avoid risking non-profit status, however, churches and pastors are advised to steer clear of messages that convey support for a particular political party or candidate.