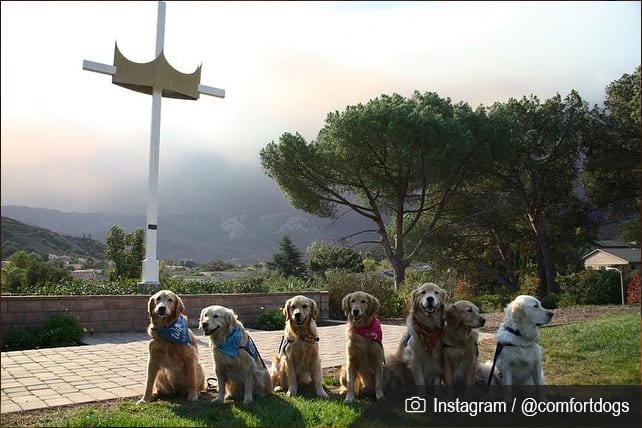 A special group of helpers is extending love to traumatized Californians without saying a word. Within hours of last week's mass shooting in Thousand Oaks, specially trained golden retrievers and their handlers headed west to comfort a grief-stricken community. When wildfires broke out the next day, the group extended its stay to assist more people.
The four-legged ministers and their human companions are part of the Lutheran Comfort Dog Ministry, an outreach of Illinois-based Lutheran Church Charities (LCC). Launched soon after Hurricane Katrina, the ministry now has 130 dogs, most of which are cared for by Lutheran congregations in 20 states. As a Recognized Service Organization of the Lutheran Church Missouri Synod, the comfort dog ministry relies on donor support and goes only where it's invited.
A team of seven dogs and 12 handlers was in Thousand Oaks for an evening vigil on November 8, hours after a mass shooting at the Borderline Bar the night before. As people mourned the 12 victims, comfort dogs were available for hugs while handlers provided a listening ear and, if desired, prayers.
Comfort Dogs Give a "glimmer of hope"
Bonnie Fear, from Colorado, jumped on a plane with her 4-year-old golden retriever, Cubby, after hearing the news. Fear met a young woman with a bandaged arm who'd survived the shooting but lost her friend Justin Meek, a recent California Lutheran University graduate. As the woman pet Cubby, "you could see it was a release for her," Fear says. "You see that little glimmer of hope in their eyes."
The outreach focuses on being present, not on preaching, says Barb Granado, who brought her dog Hannah from Illinois. "Quite often, people just want to pet the dog, and then they open up."
Relaxing and opening up are key to the healing process, says LCC president Tim Hetzner. The highly trained dogs either sit or lie down and don't jump, bark or react to loud noises. "I call them rugs with a heartbeat," he says. Due to the intensity of their work and the fact that they take on people's emotions, the dogs get regular breaks and are rotated through deployments.
Bringing Comfort to Those Who Mourn
The power of the canine-human bond has been evident during a variety of recent natural and human-caused disasters, says Rich Martin, LCC's director of K-9 Ministries. The organization's dogs have visited areas in the aftermath of hurricanes, tornados, bombings and mass shootings. When they're not at disaster sites, the dogs visit nursing homes, hospitals and courthouses. Lately, Martin says, the group is receiving requests to visit schools after student suicides.
The dogs, many of whom are named after Bible characters, have their own business cards, complete with a Scripture "life verse." The group's mission, Martin says, is "to bring the mercy, compassion, presence and a bold proclamation of Jesus Christ to those who are suffering." He adds, "When we leave the house, God's sending us."
Cubby's handler, Bonnie Fear, is often asked, "You've come all this way just for us? Why?" Her response is "because we love you, and we care about what happened. Jesus loves you, and we're here."