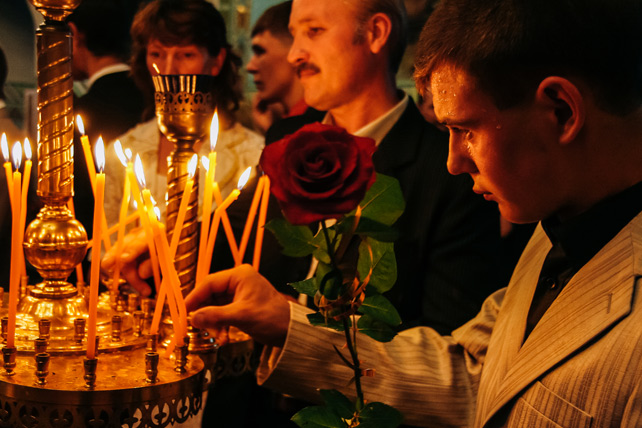 Following a historic power struggle in the Eastern Orthodox Church, the religion's highest body has declared that Ukraine's Orthodox churches will officially unify in December. That move will end a 359-year subordination of the Ukrainian church to the Russian church.
After the Unification Council of the Orthodox Church of Ukraine occurs next month (on a date still to be determined), the Ukrainian church will be subordinate only to central Orthodox officials in Istanbul (formerly Constantinople). A patriarch of Kiev will be named at the December council.
What Led Up to the Dispute Between the Ukrainian Orthodox Church and the Russian Orthodox Church?
A 1686 decree gave the Orthodox church in Moscow power over the church in Kiev, the capital of Ukraine. The Ukrainian church's push for autocephaly, or independence, has been underway since the country gained independence in 1991 when the Soviet Union disbanded. The campaign ramped up in 2014 when Russia launched a war against Ukraine and invaded Crimea, a coastal region of Ukraine.
Of the world's almost 300 million Orthodox Christians, about half belong to the Russian Orthodox Church, and 40 percent of the Russian church's members are Ukrainians. The Ukrainian church consists of three groups, including the Ukrainian Orthodox Church–Moscow Patriarchate (UOC-MP). Leaders of the UOC-MP, who generally oppose Ukrainian unification, now say they'll break ties with Istanbul's Ecumenical Patriarchate.
Political and Religious Tensions Continue 
Both sides of the debate are under fire for political interference. Critics of the Russian Orthodox Church say Vladimir Putin's government uses it to justify controversial actions. Meanwhile, others say Ukraine's president, Petro Poroshenko, is fanning the flames of nationalism and consolidating power ahead of the country's March elections. Billboards across Ukraine proclaim Poroshenko's slogan of "Army. Language. Faith."
Escalating political and religious tensions are starting to spill over into violence. On November 15, unidentified attackers threw two Molotov cocktails at St. Andrew's Church in Kiev, a major landmark in the capital city. Although no significant damage was reported, a priest who tried to chase the assailants was sprayed with tear gas.
Police are investigating the incident, which Ukrainian authorities blame on Moscow. Meanwhile, leaders of the Russian Orthodox Church say Kiev officials are waging a campaign of "political persecution" against them.
Archbishop Kliment of the Russian Orthodox Church in Ukraine says, "Not even during Soviet times has there been so much political pressure on the church." He accuses his Ukrainian counterparts of "employing unprecedented, asset-grabbing schemes against us. They are using exactly the same methods as Khrushchev and Brezhnev, only those men didn't even pretend to be religious."
Poroshenko, Ukraine's president, counters that members of the Russian Orthodox Church must choose "between the Kremlin star and the Orthodox cross."
The Metropolitan Oleksandr Drabinko, a leader in the pro-independence camp of the UOC-MP, says independence for the Ukrainian Orthodox Church is both logical and patriotic. "Many more" clergy inside the Moscow Patriarchate share his views, he says, but they're intimidated against speaking out. The church employs "army-like" discipline, bans and threats, Drabinko claims. "And if you don't agree, they try to break you."