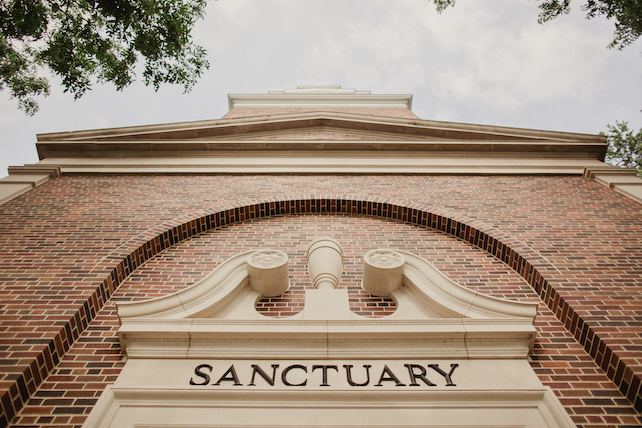 While recent headlines about immigrants have focused on the "migrant caravan" and border clashes, churches throughout America—and the world—are stepping up to shelter people at risk of deportation. Between January 2017 and April 2018, the number of undocumented immigrants seeking refuge in U.S. houses of worship increased six-fold. Before the 2016 presidential election, that number was about seven, according to a spokesperson with the Church World Service's Immigration and Refugee Program. Now it sits at about 42.
Sanctuary churches have emerged because U.S. Immigration and Customs Enforcement (ICE) generally considers churches, as well as schools and hospitals, to be "sensitive locations." Although "enforcement actions may occur" there, they're generally avoided, according to an ICE spokesman. That policy isn't law, however, and it can change. For example, courthouses had been considered sensitive locations until ICE policy changed in January.
A CityWell Refugee Is Now Being Detained
In North Carolina last week, Samuel Oliver-Bruno left the safety of CityWell United Methodist Church in Durham when immigration officials said he had to come get fingerprinted for his application to stay in America. But when the 47-year-old Mexican man arrived at the immigration office, he was arrested and put in a van. Protesters surrounded and blocked the vehicle for two hours, many of them singing "Amazing Grace." Police arrested 29 protesters, including eight members and a pastor of CityWell, where Oliver-Bruno had sought refuge for 11 months.
On Tuesday, Oliver-Bruno's legal team lost its bid to keep him in the U.S. on "deferred deportation." Now he's in a Georgia detention center awaiting removal from the country.
At its "Sanctuary at CityWell" website, the church tells Oliver-Bruno's story and addresses why it provided assistance. One reason is that "as a pastoral team we are compelled by scripture to offer sanctuary." Citing passages such as Leviticus 19:33-34; Matthew 25:35, 40; and Romans 15:7, the church notes, "There is not a caveat to exclude people based upon borders, nationalities and immigration status."
A Fine Line Between Meeting Needs and Breaking Laws
Churches that shelter undocumented immigrants are sometimes criticized for violating laws. CityWell emphasizes the difference between obedience and submission, stating: "As exemplified by Jesus, Peter and Paul, faithfulness to God will often require disobedience to those in authority over us. In these exceptional cases when faithfulness requires disobedience, we must yet remain in a posture of willing submission to the authorities over us by accepting the consequences of our actions, even if that means death."
The church says it's trying to "interpret scripture faithfully" and admits "we could be wrong." It remains "open to being challenged" by different viewpoints and, in turn, challenges critics by asking: "Can you give a Jesus–centered argument not to welcome Samuel, or other brothers and sisters like him, into sanctuary? What would you say to Jesus, the apostles, the abolitionists, Christians in Nazi Germany, Chinese Christians and American civil rights leaders who all disobeyed the laws of their lands for the sake of faithfulness to a higher law?"
Deciding to Offer Sanctuary Is a Weighty Decision
Churches that extend help to undocumented immigrants must overcome fears and be willing to modify their buildings. Hope Valley Baptist Church in Durham, North Carolina, took several months to decide to construct a refuge named Hope House. Pastor Bill Bigger heard concerns about whether "these folks will be dangerous or whether refugees are coming to take over," he says. But in the end, his faith in God is what "shapes a commitment to refugees."
In a 2016 Lifeway Research survey, pastors said their congregations were twice as likely to fear refugees as they were to help them.
Before Cristo Rey Church in Lansing, Michigan, sheltered immigrants, Father Fred Thelen says members engaged in two years of "prayerful consideration, discussion and education, testimonies and dialogue." The result, he says, was deciding "we want to stand together and say let's do what's right for everyone."
Before offering sanctuary, churches often must upgrade facilities to meet housing codes. Cities must ensure that living conditions are maintained, yet inspections raise fears among refugees. Just a week after Gizella Collazo sought sanctuary at South Congregation Church in Springfield, Massachusetts, officials arrived with a warrant to conduct a health inspection. Some people believe the mayor was retaliating against the church because he disagreed with its sanctuary policy.
Sanctuary Rock United Church of Christ, which has welcomed refugees in Phoenix since 2014, aims to "provide additional time for [people's] cases to process through the legal channels." The church lets ICE know whenever it welcomes "a guest into sanctuary."