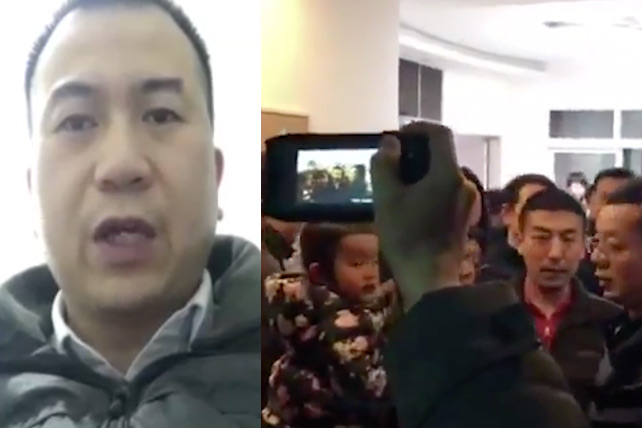 Following the detention of its pastor and about 100 members earlier this week, a Christian church in Chengdu, China, is thanking God and preparing for even more hardships. Overnight on December 9 and 10, government officials arrested leaders and members of Early Rain Covenant Church, one of the country's most prominent unregistered churches. Since then, some people have been released, while others are being closely watched. Some members report rough treatment while in custody.
"God has given us a reward"
Shortly before his arrest, elder Li Yingqiang wrote a letter to his church from a hiding spot. Describing the "large-scale persecution" as a "reward," Li expresses confidence that the detainees are within God's "sovereign providence" during their trials.
Citing 1 Peter 4:12-14, Li asks his fellow Christians, "Are you rejoicing in the fact that you are suffering with Christ because of this church? Do you know that we are blessed?"
He then thanks God for being present during the ordeal, "for training us through these days of hardship," and "for sculpting us through today's persecution." Though the future is uncertain, Li says, he expects the crackdown on Christians to "become the status quo for us in the future."
The Church Plans to Stand Firm
In his letter, Li relays the church's contingency plans, urging elders who haven't been detained to continue leading the congregation. No matter what happens, Li says, Early Rain must not alter its faith statement or its "path of openness." He writes, "We will not register with the Religious Affairs Bureau."
China has been cracking down on churches, requiring them to register and submit to government control. Most of the country's Protestant house churches remain underground, but Early Rain operates and evangelizes openly. Earlier this fall, it received a warning from authorities.
Saying Early Rain "will not easily relinquish our church building," Li urges worshipers to return to the sanctuary. If necessary, he says, worship will be held at a rented location or even outdoors. The "last resort," according to his letter, is meeting in small groups.
"We are willing to pay an even greater price to bear witness to the…gospel," Li writes. "We are willing to have 200, 300 or 500 people arrested and imprisoned." He encourages Chinese Christians to "welcome, filled with hope, the even heavier cross and more difficult lives that lie ahead."
Early Rain's Pastor Wang Yi Faces Charges of Subversion
Wang Yi, pastor of Early Rain, is being charged with "inciting subversion of state power," according to documents his mother was shown. Wang hasn't been allowed to meet with lawyers or relatives, and his wife's whereabouts are unknown.
The couple's 11-year-old son is staying with Wang's mother, who says officials are constantly stationed outside her home. "They follow us whenever and wherever we go," says Chen Yaxue, adding that officials are urging her to send her grandson to a local school rather than Early Rain's primary school.
Wang, a human rights activist and scholar who converted to Christianity, wrote an open letter to church members in September, giving instructions in case he went missing. He emphasized that he'll employ non-violent means to oppose crackdowns against his faith. "My Savior Christ also requires me to joyfully bear all costs for disobeying wicked law," Wang wrote.