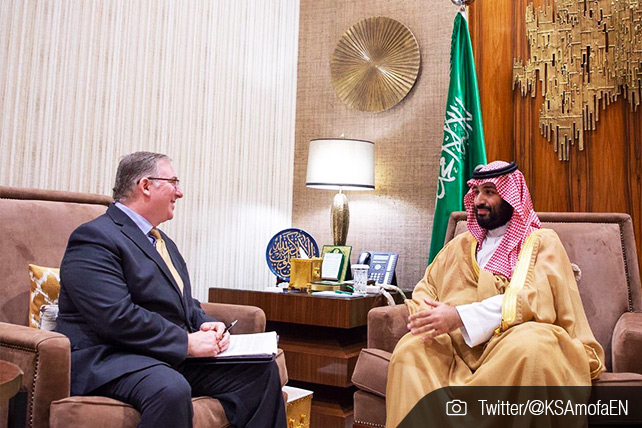 Groups of evangelical Christian leaders have recently made groundbreaking trips to Saudi Arabia and other Middle Eastern countries. While attendees say they're encouraging religious freedom and building relationships, critics say the visitors are trying to open doors for Christian missionaries and should address human-rights issues instead.
In November, a delegation of evangelical Christians met in Riyadh with Saudi Crown Prince Mohammed bin Salman and other officials. Participants included author Joel Rosenberg, former congresswoman Michele Bachmann, former Christian Broadcasting Network head Michael Little, and leaders of other evangelical organizations, including some with ties to Israel.
Delegates Aim to "Lift Up the Name of Jesus"
The group called the Saudi meeting "a historic moment," saying it was "encouraged by the candor" of the Crown Prince. "As evangelicals, it is our desire to lift up the name of Jesus whenever we are asked and wherever we go," delegates said in a statement.
Jerry Johnson, president of the National Religious Broadcasters, says delegates were serving as "ambassadors for Christ," not as representatives of the United States.
Johnnie Moore, a member of the U.S. Commission on International Religious Freedom, says the trip wasn't coordinated by the White House and the group wasn't representing Israel. Instead, it was "the latest in a series of relationship-building exercises" that are taking the "long view." The goal, Moore says, is religious pluralism in the Middle East, "like when the Prophet Muhammad himself was alive."
The faith of Muslims he met impressed Moore. "I believe what the New Testament says, Jesus is my Savior, but every time an imam or a leader of a Muslim nation…[begins] a speech and they say, 'In the name of God, the compassionate and the merciful,' that speaks to me."
Saudi Arabia bans the practice of non-Muslim religions but is working to portray itself as more open and tolerant. The kingdom doesn't recognize Israel—a nation holding special significance for many evangelicals.
Human Rights and Religious Rights in Saudi Arabia
John Fea, history professor and evangelical Christian, says delegates should tackle human-rights concerns, such as the Saudi-led war in Yemen. "These pro-Trump evangelicals tend to see religious freedom as more important than these other injustices," Fea says.
Delegates, however, say their first question to Saudi's Crown Prince referenced the murder of journalist Jamal Kashoggi. "While the Kingdom is restrictive and controversial in various and serious respects, it has under the Crown Prince begun to undergo reform and professed the desire to change in profound ways," the group stated.
When evangelical leaders visited the United Arab Emirates in October, Family Research Council President Tony Perkins commented on the "powerful faith" of Christians there. "The UAE is pursuing a path of religious tolerance and peace that I pray other countries in the region would follow," he said.
Middle East expert Joel Rosenberg says delegates found in the UAE "an extraordinary story that's almost a hidden treasure of moderation, of resistance to radical Islamism to wanting a close relationship with the United States and freedom of worship for Christians."
Delegate Larry Ross, a PR expert who was Billy Graham's longtime spokesperson, compares evangelicals' efforts to Graham's international work: "He didn't preach; he didn't proselytize. He just loved them."