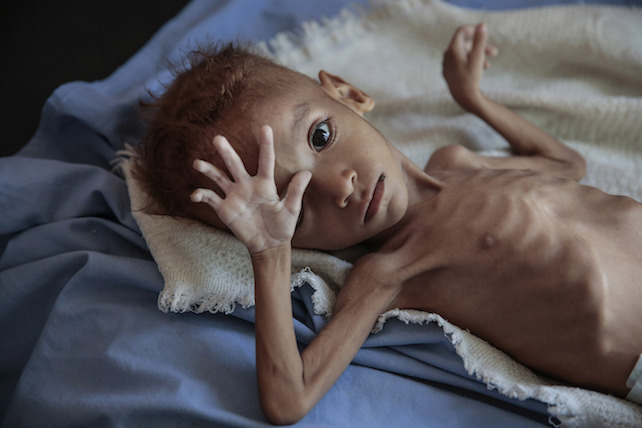 In what's being called the world's worst humanitarian crisis, an estimated 85,000 children have died of hunger and preventable disease in Yemen during the past three years. A civil war has devastated what was already the Arab world's most impoverished nation.
Save the Children bases the death-toll estimate on United Nations data regarding "severe acute malnutrition," which has affected more than 1.3 million children since fighting began. "Children who die in this way suffer immensely as their vital organ functions slow down and eventually stop," says Tamer Kirolos, Save the Children's Yemen director.
Bhanu Bhatnagar, also of Save the Children, calls the situation "a death sentence" for children under five. "What is shocking about Yemen is that these 85,000 deaths are not a result of drought or climate change," he says. "They are entirely the result of a manmade conflict that is fueled by countries who have the power to stop it." The war is wiping out an "entire generation of children," says Bhatnagar. "Thousands are so malnourished they don't even have the energy to cry."
Children aren't the only ones suffering. About 14 million people, more than half of Yemen's population, are on the brink of starvation. UN humanitarian chief Mark Lowcock says a famine is imminent and would be "much bigger than anything any professional in this field has seen during their working lives."
Although the UN hasn't officially declared a famine yet, experts say that's just a formality. "An official famine declaration would only confirm what we already know: Children are already dying from starvation," said Frank McManus, Yemen director for the International Rescue Committee (IRC). "Famine, by definition, means it's too late."
Background on the Yemen Conflict
In 2014, Houthi rebels backed by Iran overtook Yemen's internationally recognized government. Since 2015, a coalition led by Saudi Arabia and allied with the former government has been battling the rebels.
Early in the conflict, Houthi rebels captured the Red Sea port of Hodeidah, a city through which more than 80 percent of Yemen's food, aid and other goods arrive. Roadblocks frequently delay aid deliveries and prevent citizens who still have the means from fleeing the country.
After the murder of journalist Jamal Khashoggi, the United States called for a ceasefire in Yemen by the end of November. That prompted rebels to quickly seize as much territory as possible, sparking violence described as "unbearable."
U.S. tensions with Iran are complicating the diplomatic efforts. A Guardian editorial states: "The Trump administration, transfixed by its enmity with Iran, wants an end to conflict only when it suits its Saudi and Emirati allies." The West, it adds, is "complicit" by selling arms and sharing intelligence.
On November 29, a UN ceasefire resolution—drafted by Britain but opposed by the U.S. and Saudi crown prince Mohammed bin Salman—was blocked. State Department spokeswoman Heather Nauert says America's focus is on "supporting the work that [UN special envoy] Martin Griffiths is doing right there. He has a process in place." Griffiths is scheduled to meet with the exile Yemeni government and Houthi rebels in Stockholm, Sweden, between December 3 and 13 to try and broker a resolution. According to the Guardian, "Saudi Arabia and UAE intensively lobbied council members over the past week, threatening that the talks in Stockholm might not take place if the [UK's proposed] resolution passed."
Consequences for Civilians Are Dire
So far, fighting in Yemen has claimed 6,800 civilian lives and injured more than 10,000. An independent group estimates that 18,000 air raids have occurred since 2015, averaging 14 daily. People "live under fear of continuous bombardment," says McManus.
Save the Children's Bhatnagar calls Yemen "one of the most dangerous places in the world to be a child today" and says what's happening is "a stain on the world's conscience." He adds, "The ongoing brutality means children are being consistently exposed to extreme violence, further heightening the risk of psychological damage."