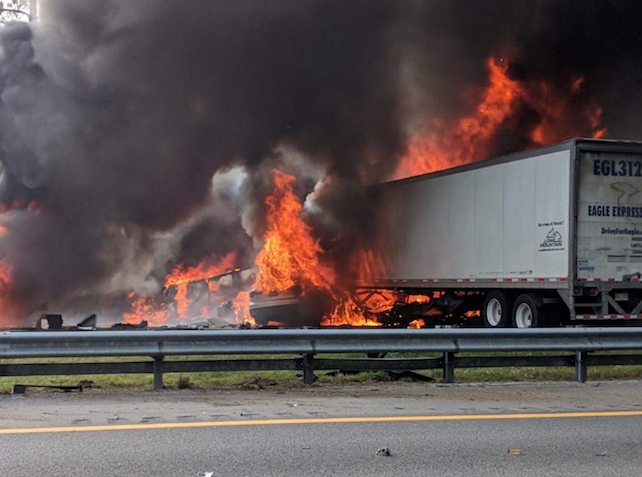 Update:
The superintendent of the United Pentecostal Church (of which Avoyelles House of Mercy was a member) released a statement about the tragedy. It is reprinted below:
A MESSAGE FROM OUR SUPERINTENDENT:
Yesterday, January 3, 2019, a van load of people from our United Pentecostal Church in Marksville, Louisiana (pastor Eric Descant), were on their way to Orlando, Florida.
For some unknown reason, a large tractor-trailer truck crossed the median of I-75 near Gainesville, Florida, and crashed into the church van. Sister Karen Descant, the pastor's wife, and two other adult ladies were on board the van. In addition, nine children were also on the van. Sadly, five of those children did not survive the accident. Pastor Descant was not with them, but is at the hospital there in Gainesville with those who survived.
Sister Karen Descant has seven broken ribs, a broken collarbone, multiple bruises, cuts, etc. Pastor Descant's words were, "She is pretty banged up. One of the ladies was pregnant. They delivered her baby last night, and the baby is going to be okay. She too is pretty "banged up." The other lady is not as severely injured, but is still in the hospital. The four children all have injuries, but the medical staff feel that all of them will heal and recover.
One of the five children who died in the accident was the granddaughter of Pastor Descant.
It is possible that many of you have already been made aware of the accident because it made national news. But, you may not have heard that it was our own people who were involved. Pastor Jimmy Toney (pastor in Gainsville) and his wife have been with our people almost the entire time since they were transported to the hospital. They and their church have been exceedingly kind in this horrific tragedy.
Please pray for the healing of those physical injuries. And, perhaps even more so, pray for that church family that has been so massively affected by this tragedy. Some of the children involved were Sunday School member[s] of the Marksville church, but their parents were not involved in the church. Please pray that these parents will realize that in times like this, only God can be our Comforter.
~ Kevin Cox
Superintendent, Louisiana District UPCI
---
Church Van Involved in Multi-Vehicle Crash on Interstate 75 in Florida
A fiery multi-vehicle crash on Interstate 75 in Florida has claimed the lives of seven people, including five children traveling in a church van. The church group was traveling from Marksville, Louisiana, headed to Disneyworld in Orlando, Florida, when the van was struck.
"This is the worst thing that has ever happened to us. We have lost half of our children," a spokesperson for Avoyelles House of Mercy told the town's paper, Avoyelles Today.
On Thursday, January 3, 2018, a semi truck and a passenger vehicle collided on I-75 north and broke through the guardrail separating the northbound and southbound traffic. After crossing the guardrail, the vehicles struck another semi truck and the church van. "Once those semis struck, they both caught fire," Lt. Patrick Riordan of the Florida Highway Patrol said during a news conference. About 50 gallons of diesel fuel spilled, which exacerbated the fire. A fifth vehicle was also caught up in the chaos when it struck debris and people who had been thrown from vehicles.
Another eight people were rushed to the hospital with injuries, some of them critical. In addition to the five children who died, the two drivers of the semi trucks also perished. 
Vinnie Divita was driving south and narrowly missed being involved in the crash. He watched it transpire in his rearview mirror. "If I had stepped on the brake when I heard the noise, undoubtedly, I would have been in that accident," DeVita said. "And then within probably 15 to 20 seconds of it all, it exploded. I mean, just a ball of flames."
Another witness described the intense heat coming from the accident. "We kept seeing these little explosions and fire," Nicole Towarek said. "The heat, it was insane."
Names of those killed have not been released yet, but the families of the children involved have been notified. Family members are making their way to northern Florida, where the crash occurred.
A neighboring church in the area, New Life Assembly of God, published a video to its Facebook page this morning asking the congregation to pray and be patient as more information is released. Pastor Richard Newman emphasized the need to come alongside the families involved as they travel to Florida and grieve the loss they have suffered.