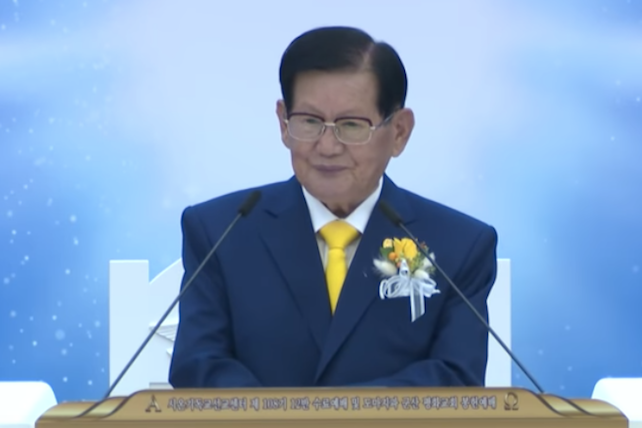 As a South Korean cult works to expand its overseas membership, Christians in that country are raising awareness about the dangerous group. Man Hee Lee, also known as the Promised Pastor, or Chairman, founded Shincheonji Church of Jesus—the Temple of the Tabernacle of the Testimony (SCJ) in the 1980s. Since then, the group (sometimes spelled Shinchonji) has used different names and front organizations to recruit members.
Christians in South Korea say that SCJ, faced with declining membership at home, is now using the K-pop music fad to recruit overseas. "Public awareness campaigns launched by Christian groups helped SCJ lose its ground at home," says the Rev. Shin Hyeon-uk, director of Guri Cult Counseling Center. "But people outside [South Korea] don't know who they are. Last year alone, [SCJ] was able to recruit 6,000 new members overseas."
According to estimates, SCJ has more than 200,000 members, about 10 percent of whom are from outside South Korea. Countries with recent waves of SCJ recruitment include China, South Africa, the United States and Germany.
"We've seen many people who were victimized by SCJ," says Pastor Shin. Some former members have sought help from his counseling center, including a "missionary" sent to Turkey. The man was instructed to recruit members by running a Korean cosmetics business, a cultural-exchange café and Korean language classes.
Christians aren't the only ones in South Korea launching anti-SCJ task forces. Newspapers and TV stations use the Internet and social media to warn people about being indoctrinated by the cult.
The Background and Beliefs of SCJ 
Shincheonji is a combination of the Korean words for "new," "heaven" and "earth." As a false messiah, Lee claims to supersede Jesus and to be the only one who can explain Revelation. The 82-year-old, who's previously been accused of tax evasion and sexual harassment, also says he's immortal. Before starting SCJ, Lee was involved with several other apocalyptic organizations.
SCJ denies the Trinity and claims all humans are angels. In free Bible classes, the group teaches that salvation requires faith in Lee, not Jesus. The Bible is presented as a compilation of metaphors that only Lee can interpret correctly.
After studying Scripture for six months, "students have a clear understanding of God's will," SCJ claims. A recent post on the group's website proclaims: "As evidenced by the 1,032 graduates in Los Angeles and Germany, Shincheonji Church is growing throughout the world."
Group members are advised against following the news and are taught that any evidence they encounter against their faith is merely testing it. Critics accuse the secretive group of breaking up hundreds of families throughout South Korea.
The cult's many social events and volunteer efforts, including a large sports festival, contribute to its recruitment success. The organization also goes by many names, adding to confusion about what people are actually joining. Front groups include World Peace, Restoration of Light, Mannam Volunteer Association and Heavenly Culture (HWPL).
SCJ's Presence in the United States
In America, the epicenter of SCJ is Orange County, California, where the cult often recruits on college campuses. Students warn that people calling themselves Christian invite you to take a survey or trivia quiz. "The leaders obviously know Scripture very well, and they're very friendly," an anonymous person posted on Reddit.
Zion Korean Church in Bellflower, California, is one of the largest SCJ churches in America. "Zion" is one of the names the cult uses in this country, as well as New Song and Light Ministries.
When Lee visits the United States, his talks are billed as peace-related. "Internationally acclaimed religious leader brings anti-war movement to L.A.," proclaimed one newspaper about Lee's 2013 stop at USC.
Lee's 2012 speech at the Crystal Cathedral angered many members of the Garden Grove, California, church. A spokesman later said the cathedral would be more careful when renting out its space in the future.