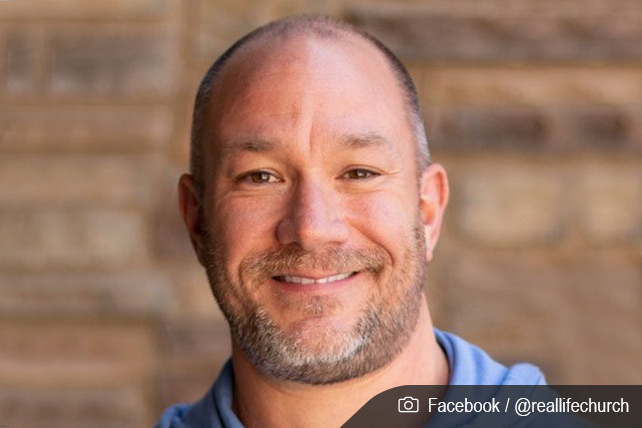 Jim Howard, a megachurch pastor in Santa Clarita, California, fatally shot himself on January 23. Howard was the Family Life pastor at Real Life Church's (RLC) Valencia campus and had a history of struggling with his mental health. In a statement posted the day after Howard's death, Lead Pastor Rusty George said,
Sadly, Jim suffered in private with mental health challenges—some of which he bravely discussed in public—and was wrestling with some personal issues in recent months. This week he made the tragic decision to end his pain. He will be deeply missed by his family, friends, the RLC family and all those who were blessed to know him.
Paramedics were dispatched to Howard's home just before 3:40 p.m. last Wednesday after getting a report about a gunshot wound. Homicide detectives were later called in to investigate. Sgt. Tim O'Quinn of the L.A. County Sheriff's Department's Homicide Bureau could not officially confirm the cause of death, but he did confirm that Howard did not die as the result of a "criminal incident."
A 'Devastating Shock'
Speaking in the front of the church following Howard's death, George called what had happened a "devastating shock," despite the fact that Howard was always open about his struggles with depression and mental illness and had even recently taught on those topics. Said George,
Because of some deeply personal issues he was wrestling with recently, he actually chose to resign last weekend. And we were working with him to help him into a season of healing and preparation for his next season of ministry, wherever that might be…and unbeknownst to us, we didn't know how deep the darkness was inside of his own mind.
George said that not even Howard's closest friends were aware of how deep his struggle was, particularly because he was so energetic, encouraging and fun to be around. However, George did say that certain comments Howard had made in the past now made more sense in light of his death.
RLC is using this tragedy as an opportunity to encourage people to take mental health challenges seriously and is offering online resources in addition to talking about the issue from the pulpit. George noted that while suicide rates are declining worldwide, they are rising in the U.S., a fact confirmed by the Centers for Disease Control and Prevention (CDC). Among other data, the CDC reports that the national age-adjusted suicide rate increased by 33 percent from 1999 to 2017. George also stated that the Santa Clarita Valley has one of the highest suicide rates in the country, particularly for men in Howard's age range.
Many people have expressed their condolences on Facebook. In the comments on RLC's statement, one user said,
The Apostle Paul wrote, "If one member suffers, all suffer together" – 1 Corinthians 12:26. This tragedy is not simply a Real Life Church heartache, but a shared grief for the Body of Christ in our city. As the broader body of Christ let's lavish our prayers on the brothers and sisters at Real Life Church.