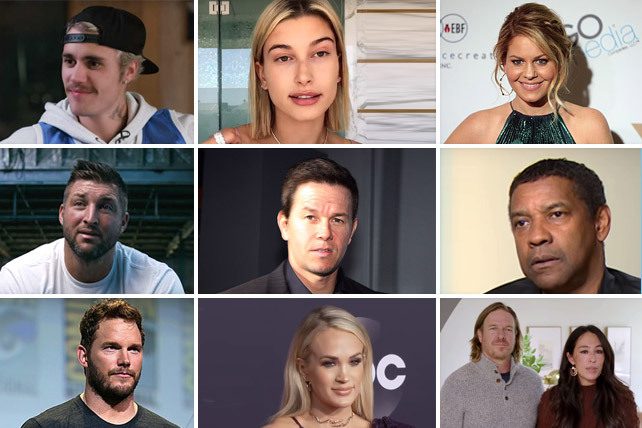 Fame comes with all kinds of pressure, but there are Christian celebrities living out their convictions in the public eye, even when doing so makes their lives more difficult. What follows is a list of celebrities whose faith has shaped their actions.
We want to acknowledge that only God truly knows what is going on in someone's heart—and you might not agree with everyone on our list. But we hope you find it encouraging to discover some people you might not have been aware of who are living out their beliefs in the limelight. 
25 Notable Christian Celebrities
1 & 2. Justin and Hailey Bieber
Pop star Justin Bieber is outspoken about his Christian faith and has at times led people in praise and worship. "The way I look at my relationship with God and with Jesus is I'm not trying to earn God's love by doing good things," said Bieber in an interview with Apple Music's Zane Lowe. "God has already loved me for who I am before I ever did anything to earn and deserve it. It's a free gift…The forgiveness is the thing that we look at and we go, you know, I'm going to worship you, God, because you gave me something so good." Bieber said he did not think he would be alive today if it were not for his faith since before he committed to following Jesus, he was on a self-destructive path.
On Easter of 2021, Bieber released a faith-centered album titled, "Freedom," that featured collaborations with other Christian singers and church leaders—and also contained explicit language. In June of this year, Bieber shared on Instagram but he is dealing with a health condition called Ramsay Hunt syndrome, which can cause paralysis in the face. He asked his followers for prayer and said that he was trusting God.
Justin's wife, model Hailey Bieber, is also outspoken about her faith and has said that without it, she and Justin would not even be in a relationship. She has spoken about her struggles with "super-judgmental" Christians, particularly those who criticize her for wearing revealing clothing as part of her job. "Your relationship with God is not going to be the same as mine," she says. "I believe that [Jesus] was about love and acceptance."
Hailey Bieber suffered her own health scare earlier this year when she had a stroke due to a small blood clot in her brain.