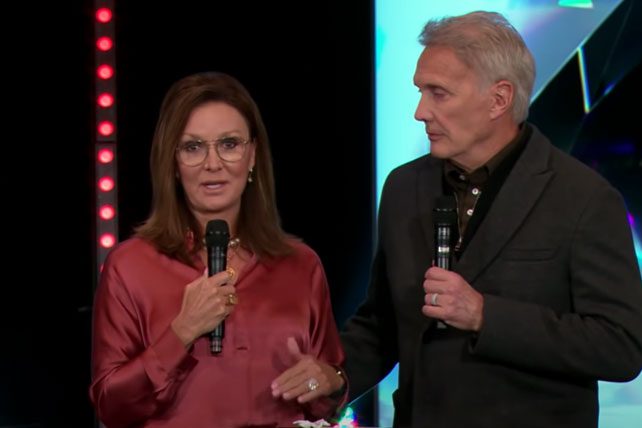 On Sunday, pastors Ed and Lisa Young shared the events that led to the death of their daughter, LeeBeth Young, at age 34. The Youngs said that while their story is one of grief and death, it is ultimately a story of hope, eternal life, and God's faithfulness.
"We probably have never been as weak and as vulnerable as we are right now," said Lisa in a message she and Ed gave the morning of Valentine's Day. Last weekend was also the anniversary of the weekend LeeBeth had made the decision to trust in Jesus. "We've experienced difficulty and we walked through pain, but not like this. And only by God's grace are we doing it…We would not be standing here if it were not for the hope of Jesus Christ." 
Sharing LeeBeth Young's Story 
Ed and Lisa Young are the founding pastors of Fellowship Church in Grapevine, Texas, and LeeBeth Young was the eldest of their four children. On Tuesday, Jan. 19, Pastor Ed Young announced on his social media channels that LeeBeth had passed away the night before. At the time, the Youngs did not reveal the cause of their daughter's death. But now they are sharing their story with the desire to bring comfort and peace to others who are in pain.
Lisa and I will continue to share our story of finding hope and healing, throughout the day, online at https://t.co/zVwDF1mYU2. No matter what you're facing, we pray this will be a time for finding comfort and peace through your pain. pic.twitter.com/Hl6mLiWFzb

— Ed Young (@EdYoung) February 14, 2021
"It's an interesting thing how grief and joy can co-exist," said Lisa. "It's beyond my comprehension because I have such joy right now through the tears, through the story, but yet I'm grieving. But that is only possible through Christ."
LeeBeth Young grew up in her parents' church and trusted in Jesus in 1991 through the church's children's ministry. Ed described some of LeeBeth's strengths, saying that she was discerning about people and was an "original creative thinker." At the same time, she "really struggled with loneliness, especially, and depression." Her depression grew worse as she got older, and as an adult she was in a "tumultuous" relationship that did not work out. About five-and-a-half to six years ago, several months after the relationship ended, LeeBeth called Lisa and told her, "Mom, I'm afraid I'm an alcoholic."
"That rocked us," said Ed. LeeBeth had never partied or been a drinker. Because the Youngs were out of town, a friend of the family took LeeBeth to the doctor. However, after leaving the doctor, LeeBeth had a seizure. The friend called paramedics, who took LeeBeth to a hospital where the Youngs met up with her. While there, LeeBeth told the doctor that she never really drank; she had just started and had not been able to stop. The doctor told her that if she continued to binge drink, she would eventually die. 
But LeeBeth had another binge drinking episode, and after that, she went to rehab. She also started meeting with a therapist daily and went to Alcoholics Anonymous. From that point, said Ed, "LeeBeth did so, so well," although he knew intuitively that overcoming her challenges would be difficult for her. The Youngs were supportive and even went to counseling with LeeBeth. But they worried about her living by herself.
The Youngs said they had noticed something was off with LeeBeth during the holidays. Then, several weeks ago, Lisa was in South Carolina visiting her mother when she talked to LeeBeth on the phone and realized that something was wrong. She told Ed he needed to go check on their daughter. 
Ed did not go into detail about the state in which he found LeeBeth. He only said, "As a father, as a parent, it's something that I pray you don't have to get involved in." From what the Youngs went on to share, it seems that LeeBeth had had another binge drinking episode. Ed stayed with LeeBeth from around lunch time that day until the evening when he took her to see her therapist. After that, they went to the Youngs' house. That night, while FaceTiming with her mother, LeeBeth said she did want to get better and to overcome the struggle that she was going through. 
Ed had LeeBeth, who he said was shaking from the alcohol, spend the night in a room in his house. He sat with her for a little while before going to work out. While he was exercising, she came in and told him she felt anxious. But when he asked if she wanted to go to the hospital, she said no. He then checked on her again before he went into his office to study. "She was doing great," he said. He kissed her and said, "LeeBeth, I love you." 
The office was only about 40 to 50 feet from the room LeeBeth was staying in, and the doors of both rooms were open. While Ed was taking notes on Genesis 22, the passage where God asked Abraham to sacrifice his son Isaac, he heard a noise from LeeBeth's room and knew something was wrong. When he ran to the room, he found she had had another seizure.