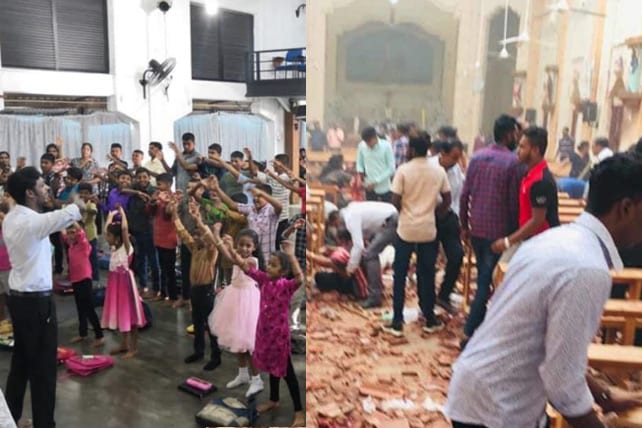 UPDATED April 28, 2021: Sri Lanka's police arrested Rishad Bathiudeen, a top Muslim leader and All Ceylon Makkal Party leader, along with his brother, Riyaaj Bathiudeen, in connection with the country's 2019 Easter attack killed 269 people. Suicide bombers targeted a Protestant church, two Roman Catholic churches, and three hotels.
A police spokesperson said the two brothers were arrested for allegedly "aiding and abetting the suicide bombers who committed the Easter Sunday carnage."
Bathiudeen said the arrest of he and his brother is "unjust," and his lawyer called it politically motivated.
Although most of those who were involved with the bombings have been arrested, Archbishop of Colombo Cardinal Malcolm Ranjith has been vocal that the bombings couldn't have been planned by one of the suicide bombers that died in the attacks. Cardinal Malcolm Ranjith accuses the government of stalling investigations.
---
ChurchLeaders original article written on April 25, 2019 below.
A Sri Lankan man killed in one of the Easter Sunday suicide bombings is being credited with saving lives by following his instincts. Ramesh Raju, 40, denied a stranger entry into Batticaloa's Zion Church, which was filled with about 450 people. The stranger Raju confronted turned out to be a suicide bomber. Shortly afterward, that "dangerous seeker" blew himself up outside the building, killing 28 people. If not for Raju's perceptiveness and quick thinking, authorities say, the toll would have been much higher.
'My husband sensed something was wrong'
After teaching Sunday school, Chrishanthini, Raju's wife, accompanied a group of children—including her two—outside to enjoy snacks before Easter worship. As the family stood near the church entrance, a lone individual wearing everyday clothes and a large backpack approached them. "My husband sensed something was wrong," Chrishanthini says. The stranger explained he was carrying a video camera and planned to film the worshipers. Raju told him he'd need permission first and "then forced him to leave," Chrishanthini recounts. She went into the church with the couple's children, but before Raju could join them, an explosion rocked the property. Amid the debris and chaos, it took hours for Chrishanthini to find Raju's body: by the church door, right where she'd seen him last. As mourners paid their respects at the family's home this week, Chrishanthini shared memories with a reporter, crying, "I love my Jesus, I love my Jesus." Chrishanthini is no stranger to grief. Both her parents were killed during Sri Lanka's civil war, and an aunt died in the 2004 tsunami.
As Mourning Continues, Investigations Intensify
The death toll from the bombings at churches and hotels has increased to 359. Sri Lankan officials have admitted to a "major intelligence lapse," failing to heed warnings about potential attacks. Although ISIS has claimed responsibility, a local terrorist group may be involved. "It doesn't add up whatsoever," says professor C. Christine Fair. The Batticaloa bomber may have initially targeted a larger church, St. Mary's Cathedral, but been thwarted by a bumped-up service time. Authorities believe the suspect missed his opportunity to strike there and headed to Zion instead.
Son of Zion's Pastor Is Among the Young Victims
Like Ramesh Raju, Pastor Kumaran of Zion also encountered the bag-holding bomber before worship. "I greeted him as I thought he was a new member to the church," he says. "I then asked him who he was, and why he was standing there, and invited him inside." The pastor adds, "I identified him as a Muslim, but many Muslims come for our healing services, so I didn't have any doubts or suspicions about him." Kumaran was on his way to conduct worship at another church when he received word of the explosion at Zion. Upon returning, he learned his 14-year-old son, Shalom, was one of the 14 children killed there. The day after burying his son, Kumaran said, "As a nation we have to forgive and love each other. It is only then that we can build our community and country, and save it for future generations. This land is hurting. This has to be over."