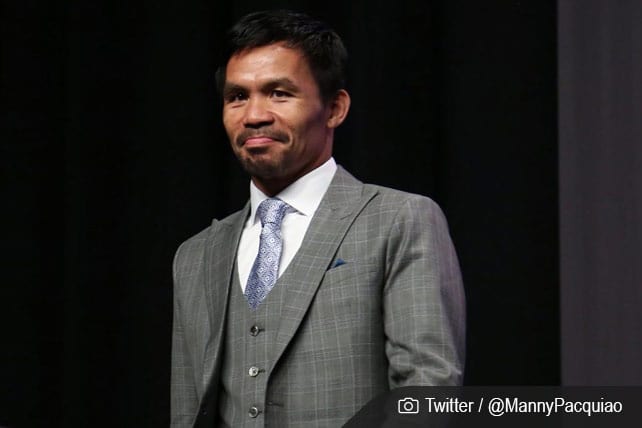 World-champion-boxer-turned-senator and evangelical Christian Manny Pacquiao made his case for reinstituting the death penalty in the Philippines for drug offenders, rapists, and murderers to fellow senators last week. Pacquiao said the death penalty is "approved by God" and that Philippine laws to address such crimes "lacked teeth."
"Having read the Bible on a regular basis, I am convinced that God is not just a God of mercy but he is also a God of justice," Pacquiao said in his 20-minute speech to the senate.
The Philippines did away with its death penalty in 2006 after mounting pressure from the Catholic Church. The Southeast Asian nation is predominantly Catholic. Now, some politicians such as Pacquiao are taking their cue from President Rodrigo Duterte to push the country to re-adopt the death penalty, especially for drug traffickers. 
On Wednesday, Pacquiao argued that "God allows the death penalty to discipline the people and to punish those wrongdoers," according to the South China Morning Post. 
Death Penalty Debate Asks: Was Jesus a Victim of a Wrongful Execution?
Pacquiao was questioned by Senate minority leader Franklin Drilon about how the fallibility of people affects the just-ness of the death penalty. Drilon noted that the penalty would be enacted by fallible people—Supreme Court justices and judges. What if those people make a mistake and someone is wrongfully executed? Drilon's questioning implied. In response, Pacquiao admitted no one is perfect, but that it's necessary for people to trust the government. "The most important thing is we have to trust our authority, which is the government," he said.
As if brushing aside Pacquiao's answer, Drilon continued: "In fact, in the history of man, only one can claim infallibility? Would the gentleman know that man?" 
Pacquiao replied, "God, Mr. President." 
"Jesus Christ," Drilon responded. "And yet Jesus Christ was a victim of wrongful execution. Is that correct?"
Pacquiao "seemed to disagree" to that statement, according to Inquirer.net. Rather than being a victim of wrongful execution, Pacquiao said his death was a sacrifice Jesus made to save the lives of people. 
Drilon pressed on, undeterred by Pacquiao's clarification: "Are you saying the execution of Jesus Christ was a correct execution?" 
To this, Senate President Vicente "Tito" Sotto III spoke up, saying, "Perhaps, what the gentleman means is that the redemption would not have been possible if Jesus did not die on the cross…"
What Does the Philippines' Constitution Say?
Pacquiao turned the conversation away from the Bible at one point, stating: "I can cite Bible verses to support my stance, but let me make this very clear, Mr. President, the focus of our debate on death penalty should be on the basis of its constitutionality."
The Philippines' constitution currently prohibits the death penalty, but allows for Congress to reinstate it  for "heinous crimes." In 2017, a bill to reinstate the death penalty managed to clear the House of Representatives but stalled in the Senate. 
Pacquiao is one of four senators trying to jumpstart the effort to reinstate the death penalty in the Philippines this year. He is an outspoken Christian who has been criticized for his view that approving homosexual marriage would make mankind worse than animals. 
Another noteworthy bill being proposed this year includes one backed by Senator Risa Hontiveros which aims to adjust the country's laws concerning divorce.