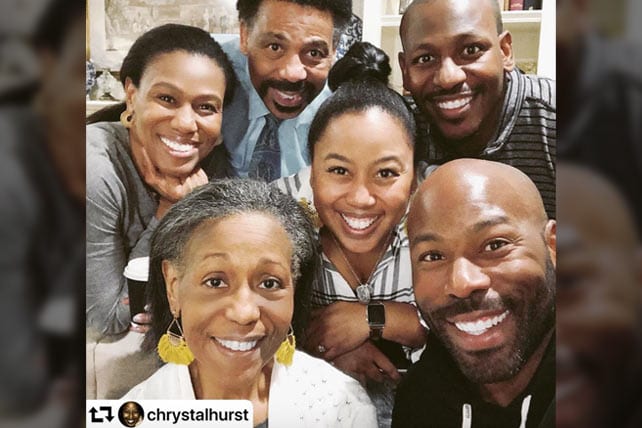 Pastor Tony Evans gave an update about his wife, Lois, and her battle against cancer. Evans said chemotherapy and radiation are no longer options to treat Lois' condition. Despite the dire news, Evans said the family still has hope that God can intervene and do "what man is unable to do." 
"Lois spent all of last week in the hospital due to severe pain related to her biliary cancer," Evans wrote in a status update on social media. "The doctors were able to manage her pain, and they released her from the hospital for home care," he said.
This is the second time Lois has battled gallbladder cancer, which is a rare condition. In April, Evans announced Lois' cancer had returned and that they were searching for an "effective treatment." 
Evans indicated in his recent post that even though chemotherapy and radiation are no longer options, Lois is pursuing alternative forms of treatment. He wrote, "While we wait on our miracle, Lois is continuing with natural therapies, supplemental treatments and is surrounded 24/7 with the love of her nuclear and extended family as well as the support of our church and national ministry."
As ChurchLeaders reported in April, the Evans family has faced a series of tragedies over the last couple of years:
The Evans family has suffered several significant losses over the past year or so. Dr. Evans' niece, Wynter Evans Pitts, died suddenly in her sleep in the summer of 2018 at age 38. Pitts was the founder of the ministry For Girls Like You and mother of actress Alena Pitts, who played Danielle Jordan in the movie War Room. And only six months before Wynter's death, Dr. Evans lost his brother. 
Adding to these tragedies, Evans lost his sister, Beverly Johnson, unexpectedly in January of this year. 
In April, Evans said his faith was being tested in a way he'd never experienced before, but that he was trusting in God. It is clear that he and his family are clinging to their faith in God again.
"We know God is still on the throne, and our faith is in Him and His Word, and His love for us has not wavered in the least," Evans wrote.  
He also included a Bible verse in his update on Lois' condition: Ephesians 3:20-21, which speaks about God's ability to do "immeasurably more than all we ask or imagine."
View this post on Instagram
The pastor of Oak Hills Bible Fellowship in Dallas thanked his followers for praying for Lois and his family. Lois helps Evans lead his radio broadcast ministry, The Urban Alternative. Lois Evans is also the founder of Pastor's Wives Ministry. 
The couple has four grown children, among them speaker and author Priscilla Shirer, Jonathan Evans, a former professional football player turned minister, Gospel artist Anthony Evans, and Chrystal Evans Hurst, creator of The Sister Circle Show. Tony and Lois Evans are also proud to have 13 grandchildren and two great-grandchildren.