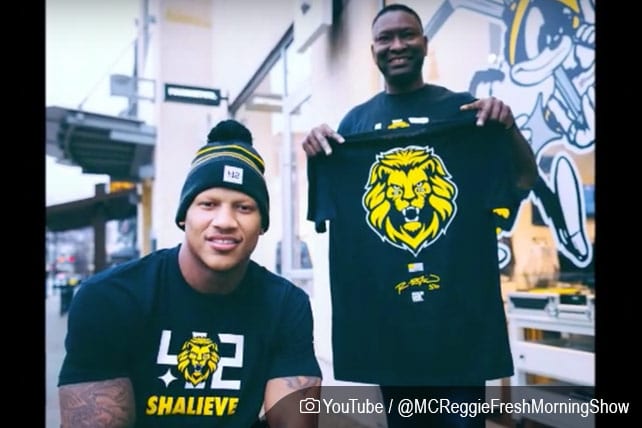 Two years ago this week, the Shazier family gathered in a hospital, praying for son Ryan Shazier after emergency spinal surgery. Now his dad, Florida pastor Vernon Shazier, is addressing the faith-testing ordeal and the recovery he calls a miracle.
During a Monday Night Football game in Cincinnati, 25-year-old Pittsburgh Steelers Pro Bowl linebacker Ryan Shazier suffered a devastating injury. From the ambulance, he called his dad, screaming, "Pray for me. I can't feel my legs!" Vernon says that marked a crucial point in his relationship with God.
'I had to make a decision,' Vernon Shazier Says
In a Sports Illustrated profile, Greg Bishop details the pastor's faith struggles after that life-changing injury. Since the December 2017 night when his wife frantically called him out of a meeting at River of Life Fellowship in Fort Pierce, Florida, Shazier says he's "wrestled with my faith more than I ever had in my life."
Though he tried to remain strong for others, the pastor admits crying "15 to 20 times a day," always in private. Another daily occurrence was this group text he sent family members: "God is with us. God is with you. God is helping you. God is healing you."
On the weekends, Shazier flew home to preach sermons while dealing with the reality of "how fast everything can change." During a hospital vigil, he experienced a type of vision in which he tried (unsuccessfully) to switch bodies with his son. "That's a hurt a parent has for their child," Shazier tells SI. "They're willing to sacrifice their body for their children's pain."
Shazier had faced many trials, both in his own life and with congregants, but after Ryan's injury, "I had to make a decision: I believed, or I didn't." The pastor says he never questioned or blamed God and ultimately had no choice but to believe in him—an "all in" conviction expressed through the family's hashtag #Shalieve.
Pastor Calls His Son a Walking Miracle
Shazier, a former engineer who attended seminary at Baylor, admits feeling that God was rewarding his faith as Ryan's condition improved. "He was totally paralyzed from the waist down," the 49-year-old father says. "They said he'd probably never be able to walk again. He's not 100 percent, but he's on his way back."
Ryan, who wears a bracelet that proclaims "Walking Miracle," says, "The Lord has amazing things in store for me." He has progressed from wheelchair to cane to walking and even jogging. He danced at his wedding (which his dad officiated) and had a son. Vernon believes God could even let Ryan return to football, though he admits he'd "probably need an oxygen tank if…that boy jogged back on the field."
Vernon, who had to give up his own college football dreams after his parents got divorced, does inspirational speaking and coaching on the side. When he needs a boost, the pastor knows exactly where to turn: "I'm not [ashamed] to admit that there are times when the motivator (me) needs motivating. And the encourager (me) needs encouraging," he tweets. "During those times I have always found strength in reading Psalms 23."