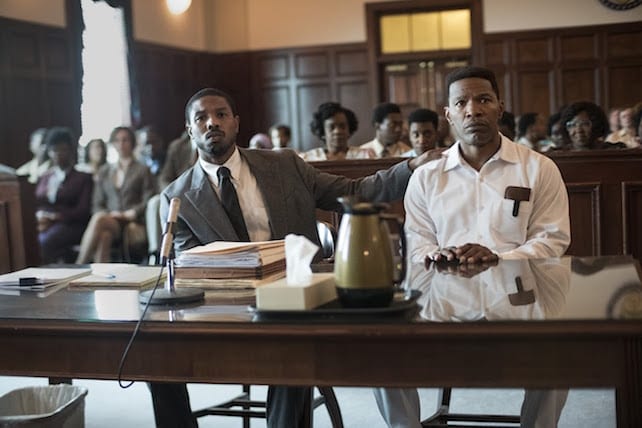 Bryan Stevenson is an attorney and the founder of the Equal Justice Initiative (EJI). Up until this year, for the most part Stevenson has carried on his work challenging racial and economic injustice with an air of anonymity. He prefers to work "undercover" and "behind the scenes" as he puts it. However, with the release of the feature film Just Mercy starring Michael B. Jordan and Jamie Foxx, Stevenson might very well become a household name. 
"This is the most important film I've ever done," Foxx said during an interview on Good Morning America. 
Foxx plays Walter McMillian in the film, a black man who was convicted and sentenced to death for a murder he did not commit. Michael B. Jordan (of Black Panther fame) plays Stevenson, who intervenes in McMillian's case to save him from a punishment he does not deserve. Just Mercy is based on Stevenson's book by the same title, which highlights the story of just one of the seemingly hopeless cases Stevenson has taken on in real life. (The film will be in select theaters December 25th and theaters everywhere January 10th.)
According to Foxx and Jordan, Stevenson is a real-life hero doing incredibly difficult, yet necessary, work. "I was definitely intimidated when I first met him," Jordan admitted in an interview with Good Morning America. "Only because I know how great of a man he is and I know how important his work is. I just didn't want to mess that up."
Who Is Bryan Stevenson?
Stevenson, 60, grew up in a "poor, black community" in rural Delaware. The area where he lived was segregated. In fact, his father didn't go to high school because there wasn't one available to black students when his father was a teenager. Stevenson was inspired to go to law school when lawyers came into his community to open up the public schools, which allowed him and other kids in his neighborhood to get the education that was unattainable for their own parents. 
"My mother really believed in the power of education," Stevenson said in an interview with WSFA News. He credits his ability to succeed in school with the encouragement of his mother and grandmother. Stevenson said the benefits of education were not lost on his ancestors, either. His great-grandfather was a slave in Virginia who learned to read. His great-grandfather would read the newspaper in the evenings to other black people in his community. 
Stevenson is also a person of faith. He grew up in an African Methodist Episcopal (AME) Church and credits the teaching at the church with fostering a passion for justice in him. For Stevenson, his work is a ministry. 
Stevenson earned a law degree and Masters in Public Policy from Harvard before he founded EJI. In 1989, he moved to Montgomery, Alabama and got to work. Stevenson has argued five cases at the Supreme Court to date, winning all but one of them. In 2012, he successfully argued a case which led to a landmark ruling that banned mandatory life imprisonment without parole sentences for children 17 years old and younger.
To date, Stevenson and his staff have won hundreds of cases involving wrongly convicted or unfairly sentenced people. Over 135 of those cases involved the reversal, relief, or release from prison for prisoners on death row.
What Does Bryan Stevenson Believe About Just Mercy?
"There's a history that we don't learn in school that we need to know," Stevenson said in the interview with WSFA News. Stevenson believes there is an acknowledgment and reckoning American society needs to come to regarding slavery, lynching, and segregation.  
He gives the example of moving to Montgomery in the 1980s. At the time, there were 59 markers throughout the city for the confederacy, but not one of them mentioned slaves or slavery. This is very strange considering the majority of the residents in the city are descendants of slaves. Yet, there seemed to be no acknowledgment of that part of history. "It's dishonest to want to talk about the 19th Century and not talk about slavery," Stevenson believes. To remedy this, the EJI has put up a number of markers around the city bringing attention to things like the site where slaves were auctioned in times past. EJI was also behind the Legacy Museum and the National Memorial for Peace and Justice which opened in 2018.
For Stevenson, the need we have as a nation to acknowledge and repent of slavery ties in to his faith. "In the faith tradition I grew up in, if you want salvation, you have to be willing to confess," he said. "There has to be repentance." Stevenson admits it's not an easy task to face the atrocities of the past. He says as a child in church when he heard messages about the need for repentance, he also heard the message that on the other side of confession is "redemption and recovery and restoration."