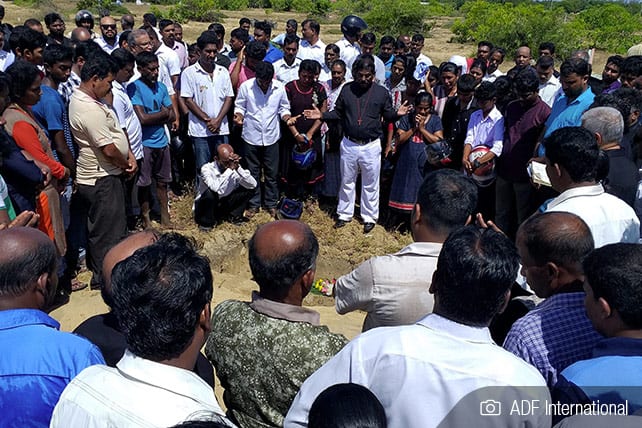 Christians in Sri Lanka are preparing to celebrate Christmas. For many, it will be the first Christmas observance since losing a loved one in the Easter attacks that took place in the capital of Sri Lanka earlier this year. Police have instructed churches to ramp up security as they prepare for the Christmas holiday. Despite the fact that some are still healing from injuries sustained during the attacks, Christians are determined to return to church, even if the celebration will be bittersweet.
"It's a sad memory as they attend worship this year especially at churches where there were so many dead and injured," Godfrey Yogarajah, Deputy Secretary General of the National Christian Evangelical Alliance Sri Lanka, told ADF International. Still, Yogarajah believes "Psychosocial support is needed" for these families. 
Gathering with other believers can certainly provide that support. 
Still, celebrations this year may be subdued. The Archbishop of Colombo, Malcolm Ranjith, has asked church members to avoid "lavish and immoderate" celebrations out of respect for those who lost loved ones or who were injured in the Easter attacks. He also encouraged members to visit those affected by the attacks. 
In addition to his directive to Sri Lankan Catholics, Ranjith also called on authorities to take greater precautions in protecting the churches. In April, the government's competency was called into question after it was discovered intelligence officers received warning of the attacks. At the time, Ranjith said, "We placed our hands on our heads when we came to know that these deaths could have been avoided." 
This Christmas, the Sri Lankan government has pledged to deploy more personnel to guard churches. 
Easter Attacks Ravaged Churches in Capital of Sri Lanka
As ChurchLeaders reported in April, the attacks targeted three churches near the capital city of Colombo, with bombs going off during Sunday services. (Two churches were Catholic, and one was evangelical.) Other blasts occurred at luxury hotels, just weeks after the island nation celebrated its main national festival. On the following Monday, a van parked near one of the bombed churches exploded, and 87 detonators were found near a bus depot.
Sri Lanka officials determined the attacks were carried out by seven suicide bombers, although it is not clear which group was behind the attacks. Sri Lankan Health Minister Rajitha Senaratne pointed to the militant group National Thowfeek Jamaath (NTJ), of which little is known. "There was an international network without which these attacks could not have succeeded," he said.
The problem of Christian persecution is a growing one around the world. As Tehmina Arora with ADF International points out, violence against minorities is also high in places like Pakistan, Nepal, Sri Lanka, and India. She believes "extreme social hostility like mob violence against minorities is encouraged by authorities failing to prosecute the offenders." 
It's not just Christians in Asia that are experiencing this persecution, either. The Chaldean Catholic Church decided not to engage in any public Christmas celebrations this year due to the increasing unrest and violence in their native Iraq. The head of the Chaldean Catholic Church and the president of the Iraqi Bishop's conference, Louis Raphaël I Sako, has also called upon the international community of Christians to remember Christians in Iraq in their prayers. 
May those of us who are fortunate to live in places where we can attend church in peace remember and pray for those who are not so fortunate.