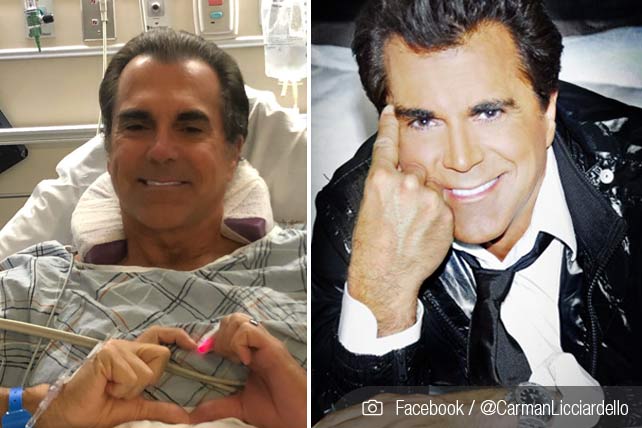 Veteran Christian artist Carman recently announced on Facebook that his cancer, which had been in remission for six years, has returned. He requested that fans join him in praying he would be cancer-free by his birthday on January 19.
"Please pray," wrote the singer on Sunday, January 12, "because I can't quit, I can't stop fighting…But I can't do it without your prayers and support. Sunday January 19th is my birthday and what I really want is a cancer free body."
Carman's Cancer Is Back
In 2013, Carman was diagnosed with multiple myeloma, which is a terminal cancer that forms in plasma cells and causes cancer cells to build in the bone marrow. At the time, the singer underwent nine months of chemotherapy, and the following year he announced that his cancer was gone. 
In his Sunday post, Carman said that doctors told him nine years is the average length of time myeloma goes into remission, an average he fell three years short of reaching. He first became aware that his cancer was back last January when his oncologist told him his myeloma levels were spiking. For five months he tried several treatments that were ineffective. Then he got a new doctor who decided to "take a more aggressive approach." 
"Since last July I've been on the more advanced medicine and getting chemo shots in my stomach every Tuesday," he wrote. "That really hurts. They added a type of steroid, which bloats you up. So I immediately gained 20 pounds of water weight I couldn't get rid of. (Ugh)." In his announcement, Carman said that on Tuesday of this week, doctors would be drilling into his hip bone to take a biopsy, which would tell them if this latest treatment is working. "What a week," he said.
Carman's Career
Born Carman Domenic Licciardello in 1956 in Trenton, New Jersey, Carman is one of the most successful Christian artists of all time. He has sold over 10 million albums, won multiple awards, and is known for songs like "The Champion," "Lazarus Come Forth," and "His Name Is Wonderful." 
Something that set Carman apart in his heyday was that he put on concerts for free, only taking love offerings to help cover costs. A concert in 1994 gave him the record for the largest attended Christian concert ever when 71,132 people attended his show at the Texas Stadium in Dallas. One reviewer described how Carman used his music in a unique way to share the gospel with people: "He doesn't make music for the sake of music, or artistry. He makes music as an evangelism tool. Indeed, Carman is more like a singing evangelist than a singer. Attending one of his concerts is like going to a revival with a musical soundtrack." In addition to his musical career, Carman has authored several books and was a host on Trinity Broadcasting Network. 
The singer has received an outpouring of love and support on his Facebook page, with tens of thousands of people saying they are praying for him. As of this writing, there have not been any updates on the results of Carman's surgery. "I'll let you know as soon as I know," he said. "I still trust God to have his perfect will done in the end."