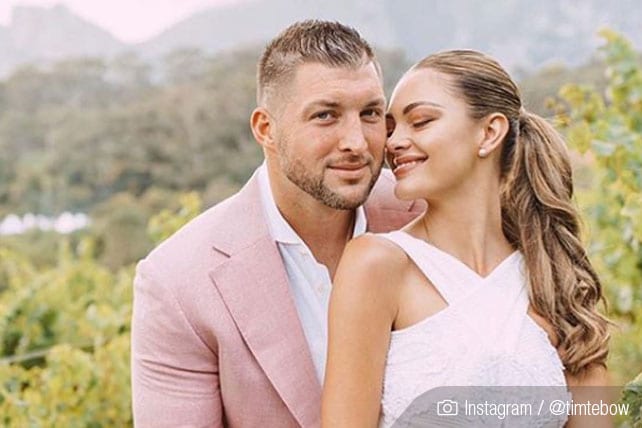 Tim Tebow married his fiancée Demi-Leigh Nel-Peters in Cape Town, South Africa on Monday, January 20, 2020. The couple shared pictures and details of the swanky ceremony with People Magazine.
"I've been waiting my entire life for someone special, who I can spend the rest of my life with. I was waiting for the right person to come along. And now I'm marrying Demi. I can't wait to see what our future holds. All of my dreams have come true. It was 100 percent worth the wait," Tebow told People magazine. 
People Magazine shares the ceremony took place shortly before sunset and included approximately 260 guests. It was held at La Paris Estate in Cape Town, which was the farm and estate of a French Hugenot named Francois Retief. The estate was given to Retief in 1699. Today it serves as a restaurant, hotel, and event venue. 
View this post on Instagram
Nel-Peters told People it was important to the couple to keep the look and the feel of the ceremony traditional. "We definitely wanted it to be something that we could look back on and know that nothing was dated. We want to remember this day for the rest of our lives."
The food served at the reception included both American and South African dishes. Tebow, who follows a Keto diet, requested a groom's cake that was compliant with his diet. The requested cake came in the form of cheesecake. 
A couple days ago, Tebow posted a video and images of what looked like a rehearsal dinner to his Instagram account. Guests close to the bride and groom shared words of encouragement and memories of the couple, including Louie Giglio. 
Tebow gave a brief explanation for the couple's decision to have the ceremony in Nel-Peter's native South Africa. "Even when she was saying 'oh, we could be here or different states in the U.S.,' I could see it on her face that nothing would be the same if she wasn't home."
Nel-Peters is a model and the winner of the 2017 Miss Universe competition. Originally from South Africa, Nel-Peters spent the year 2018 visiting various cities around the world before her reign as Miss Universe ended in December.
Tebow met Nel-Peters at a Super Bowl party and the couple got engaged in January 2019.
One of the things the couple has in common is a love for people with disabilities. Nels-Peters half-sister, Franje, was born with cerebellar agenesis, which is a condition where a person's cerebellum (a key part of the brain) does not develop. Tebow's Night to Shine events celebrate individuals with disabilities by throwing parties in their honor, similar in style to a prom.
To see a picture from the wedding, check out Tebow's Instagram account.