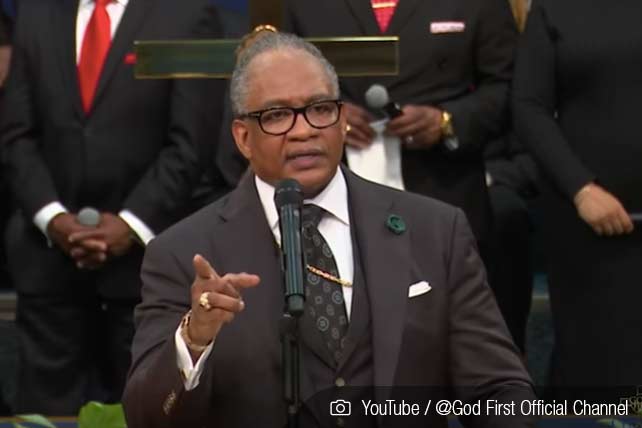 Speaking at Upper Room Church of God in Christ in Raleigh, North Carolina, on Martin Luther King Jr. Day, North Carolina Lieutenant Governor Dan Forest said that the purpose of Planned Parenthood at its founding was to exterminate the African American population—and he implied that agenda continues to this day. Forest, who is white, has been met with opposition for those comments. However, the church's pastor, Bishop Patrick Lane Wooden, Sr., who is black, says he agrees with them.
"How are you going to be a woke church, and don't know this?" asked Wooden. Church leaders who do not tell their members about the abortion provider's agenda against the black community, he said, "are the epitome of being asleep. You're asleep at the wheel."
What Dan Forest Said About Planned Parenthood
"There's no doubt that, when Planned Parenthood was created, it was created to destroy the entire black race," said Dan Forest, as reported by WRAL News. "That's just the truth." Forest went on to say, "How the black community can't come together and see that and understand that and fight against it, I don't know. And how the white community can't come together and see that and fight against it, I don't know either."
Gerald Givens, who is president of the Raleigh-Apex NAACP and also black, took issue with Forest's remarks, telling WRAL, "I'm not sure why the Lieutenant Governor feels he's authorized to speak on behalf of Dr. Martin Luther King Jr. or on what African-American people see. His opposition to organizations like Planned Parenthood show he has not learned much from Dr. King."
Elder John Amanchukwu, Wooden's assistant and Upper Room's youth pastor, spoke to WRAL about the controversy, saying, "I'm thankful for Dan Forest for speaking up and saying it, but as a local church, he didn't have to say it for us cause we say it all the time."
Amanchukwu then showed WRAL a placard with part of a quote by Planned Parenthood founder Margaret Sanger, which read, "We do not want word to go out that we want to exterminate the Negro population…"
Although Wooden was not present to handle the controversy himself, he told his congregation that Amanchukwu handled the situation well, and he emphasized the importance of pastors addressing "the evils of Planned Parenthood." According to Bishop Wooden, Planned Parenthood is the number one killer of African Americans and kills more of that population every two weeks than the Ku Klux Klan did in its entire history.
What Did Margaret Sanger Really Mean?
The quote Wooden and Amanchukwu referenced comes from a letter Margaret Sanger wrote to Dr. Clarence Gamble (of Proctor & Gamble). In the letter, Sanger is explaining the importance of having African American leaders help get the black community on board with her work.
The broader context of Sanger's quote is: "The ministers work is also important and also he should be trained, perhaps by the Federation as to our ideals and the goal that we hope to reach. We do not want word to go out that we want to exterminate the Negro population and the minister is the man who can straighten out that idea if it ever occurs to any of their more rebellious members."
The phrase as Wooden quoted it sounds damning, but pro-choice advocates argue Sanger was not arguing for exterminating an ethnic group. Rather, they claim, she was concerned that the Negro population would think that she and her associates were trying to exterminate them, and Sanger wanted them to know the truth—that they were not. The quote, says TIME magazine, when taken in context, "describes the sort of preposterous allegations she feared—not her actual mission."
It's difficult to know which interpretation of Sanger's quote is correct without examining her other writings. No one denies that Sanger was a eugenicist, meaning she believed in using birth control to breed genetic defects out of people. This in itself is troubling. Even this article from Rewire.News, which arguably white-washes many of Sanger's views, admits, "Margaret Sanger held many abhorrent ideas about population control and eugenics, ideas that any decent person today would find horrifying…she believed that the 'reckless breeding' of the 'feebleminded' was 'the greatest biological menace to the future of civilization.'"