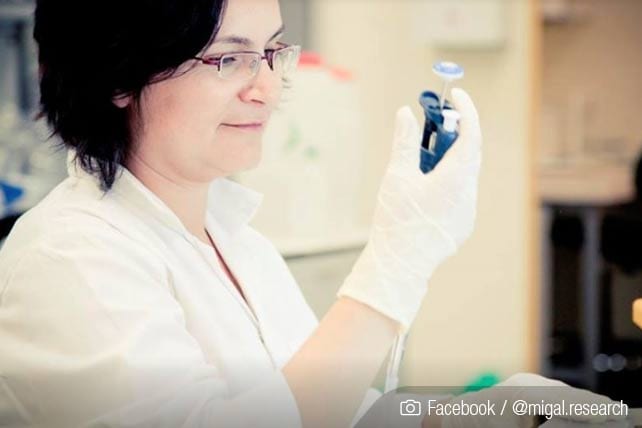 Although the World Health Organization (WHO) has said a coronavirus vaccine could be up to 18 months away, researchers in Israel say they're "a few weeks" from having a coronavirus vaccine ready for testing. Scientists at MIGAL, a research institute in Galilee, just happened to be using the coronavirus model to study another infectious disease.
Coronavirus Vaccine: 'Pure Luck' or Divine Providence?
For four years, a team has worked to formulate a vaccine for a bronchial disease that affects poultry. "Our basic concept was to develop the technology and not specifically a vaccine for this kind or that kind of virus," says Dr. Chen Katz, the institute's biotechnology group leader. "Let's call it pure luck. We decided to choose coronavirus as a model for our system just as a proof of concept for our technology."
After China released the full RNA sequence of the virus, the Israeli researchers discovered a strong genetic similarity between the poultry coronavirus they'd been studying and the new human virus. "All we need to do is adjust the system to the new sequence," Katz tells the Jerusalem Post. "We are in the middle of this process, and hopefully in a few weeks we will have the vaccine in our hands…to prevent coronavirus."
Once a coronavirus vaccine is developed, it still must be tested on animals and then humans, followed by large-scale production. Ofir Akunis, Israel's Science and Technology Minister, says the approval processes will be fast-tracked. MIGAL CEO David Zigdon estimates needing 90 days to "achieve safety approval." He says, "Given the urgent global need for a human coronavirus vaccine, we are doing everything we can to accelerate development" of the oral vaccine.

BATM, another Israeli company, has created a quick diagnostic kit that tests for COVID-19, the disease caused by the novel coronavirus. Production is underway on the kits, which BATM says meet the criteria of organizations such as the U.S. Centers for Disease Control and Prevention (CDC).
The Virus—and Its Impacts—Spreading Rapidly
As of February 28, more than 83,000 cases of coronavirus have been reported, affecting every continent except Antarctica. At least 2,800 people have died so far from the disease, which is impacting everything from financial markets to personal interactions. The stock market had its worst week since the economic collapse of 2008, and product shortages are predicted if the epidemic continues.
On Wednesday, President Trump placed Vice President Mike Pence in charge of the U.S. government's response to the virus. The next day, Pence tweeted: "The risk of Coronavirus in the US remains low & it's a direct result of the unprecedented action of President @realDonaldTrump. The American people can remain confident, that we will bring the full resources of the federal government to bear to protect the people of this Country."
Critics say Pence isn't qualified because of his various "anti-science" stances. For example, they point to his delay in authorizing a needle-exchange program to slow HIV rates while governor of Indiana.
Throughout the world, travel plans are being put on hold, visitors returning from certain areas are being quarantined, and masks are flying off of shelves. In Japan, all schools have been closed for one month, and the 2020 Summer Olympics in Tokyo could be in jeopardy.
In Saudi Arabia, officials have taken the rare step of stopping pilgrimages to the holy city of Mecca. Though the main 10-day Hajj doesn't begin until late July, millions of Muslims travel to the country's holy sites throughout the year.
In Vatican City, speculation arose about the pope's health after he cancelled some appearances due to illness (reportedly just a cold). During his Ash Wednesday service, a hoarse Pope Francis expressed support for people who have the virus, as well as for workers caring for them.