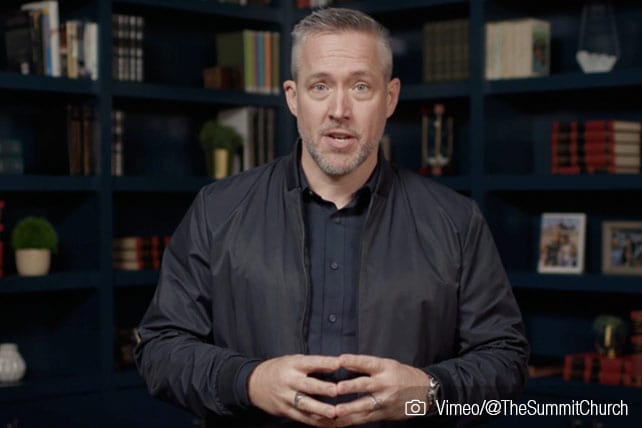 The Southern Baptist Convention (SBC) announced today that its 2020 SBC Annual Meeting is cancelled. Originally scheduled for June 9-10 in Orlando, Florida, the meeting will not be rescheduled. 
SBC Annual Meeting Cancelled for 'Grave Emergency'
"In light of the COVID-19 global pandemic which we believe constitutes a grave emergency, it is in the best interest of the SBC to cancel the Annual Meeting—for the first time in 75 years—out of a deep concern for the health and safety of messengers and attendees," a message on the SBC's website states.
"We are extremely disappointed in having to make this decision," former SBC President Ronnie Floyd told the Baptist Press. "We know our churches need to focus on ministering to their communities and to those who have been impacted by the COVID-19 global pandemic," he continued.
J.D. Greear, the current President of the SBC, echoed Floyd's sentiments and elucidated how local churches could help their communities: 
I don't need to tell you how many of our churches are hurting right now. Or how most of our communities are experiencing unprecedented need. In this extraordinary hour, pastors need to be focused on their people, and churches need to be focused on their communities. Pausing from these efforts to make a costly trip to Orlando just doesn't seem like the right thing to do. In this moment, keeping the Gospel above all means staying where we are to minister to those who need us.
Let me encourage you to consider reallocating resources that might normally have been spent on getting to the Convention to minister to people in crisis. At The Summit Church we have decided to take the money that we were going to spend on sending messengers to Orlando and use it to help bivocational pastors and church planters meet payroll over these next several weeks. I am calling on other churches to join us in this if they are able. The apostle Paul tells us in Galatians that fulfilling the law of Christ means bearing the burdens of our brothers and sisters, shouldering their loads alongside them.
Let me also encourage you to consider ways that your church might bless your community in this difficult season. You might consider making a donation to your local pregnancy resource center, for example, since they tell us that during times like these, abortion rates go up. You might donate to the many food banks helping feed children who are in need because of school closures. You might reach out to local organizations that focus on the marginalized and the vulnerable and simply ask, "What can we do to help?"
The decision to cancel the meeting was made by SBC officers, the SBC Executive Committee, and the executive heads of the Convention's boards and institutions. A unanimous vote of 77-0 decided the matter. The SBC's Constitution gives instruction for canceling an annual meeting. "The Convention officers, the Executive Committee, and the Executive Heads of the Convention's boards and institutions acting in a body may, in case of grave emergency, cancel a regular meeting or change the place of a meeting," the Constitution reads. 
During World War II, in 1943 and 1945, the annual meetings were also cancelled. At that time, the U.S. government instructed people not to gather in groups of more than 50.
Decisions Put on Hold
Since the convention will not meet this year, certain officers of the SBC will hold their positions until an in-person vote can occur, which doesn't look like it will be until next year. Online voting or "proxy voting" is not permitted, according to SBC governing documents: "All propositions, decisions, and choices shall be by a majority vote of the messengers present and voting in person, except where provisions have been made for a greater than majority vote." 
One such officer who will hold his position for a year longer than originally planned is Greear. "I certainly didn't plan for a third year [as SBC president]," Greear told Baptist Press. "But [I] trust that the God who ordains our days will give us strength equal to the task."