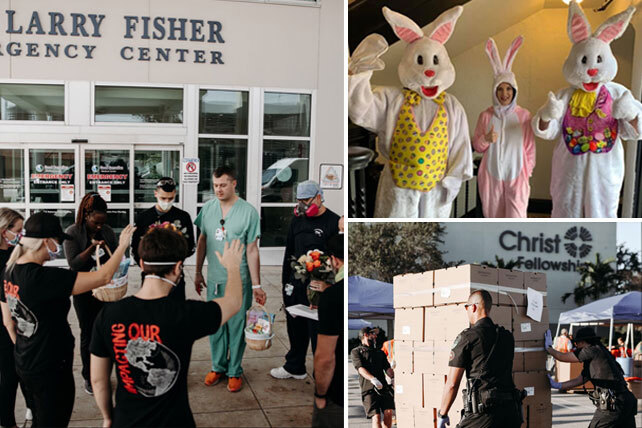 Although the coronavirus kept most pews empty this Easter 2020, it didn't prevent churches from reaching out in innovative ways to meet people's needs and offer support. Throughout America, congregations distributed food, treats, masks, gas—and lots of holiday joy.
Easter 2020: "Giving is a form of worship"
In Jonesboro, Arkansas, staff and members of Kingdom Nation Ministries gathered at a service station to buy gas, wash car windows, and provide face masks and Bibles for people in need. The area also has been hit by tornadoes recently, and Pastor Carlos Turner says the church wanted "to show the city that we love them and that we want to invest back into them."
Worship has always been a priority on Easter, but the format merely changed this year, the pastor points out. "We're not able to come together as far as worship in the building, but we're able to worship in a different way by giving to the community," Turner says. "What better way to worship than to give. The Bible says, 'For God so loved the world that he gave,' so giving is a form of worship."
Impact Church in Waterloo, Iowa, also bought gas for drivers on Easter—blessing the occupants of more than 140 cars. Though the pandemic has forced the church to temporarily suspend its free monthly community meal, "God still shows up through his people," says member Gail Greer.
With the coronavirus causing unemployment to spike, food insecurity is a major concern in many communities. Harvest Ministries Outreach Center in Wadesboro, North Carolina, distributed free groceries to hundreds of families on Easter 2020. Cars began lining up three hours before the event was scheduled to kick off. Staff members wearing gloves and masks handed out nonperishable goods, toys, and Easter baskets. "This is a difficult time," says Pastor Steve Adams, "so we just thought, 'Let's put our heads together and see what we can do.'"
Churches Spread Joy Throughout Communities
In Beaumont, Texas, the pandemic meant that Harvest for Lost Souls Church had to creatively adapt its annual "Serve 24" campaign. Every Good Friday, church members perform 24 good deeds in 24 hours. This year's event included delivering baskets to sheriff's deputies and setting up a prayer-request wall for community members.
Medical workers in West Palm Beach, Florida, benefited from the generosity of members at Christ Fellowship Church. Congregants brought cinnamon rolls, offered prayer, and delivered hundreds of bags of Easter treats to personnel at several local hospitals.
Two pastors in Pekin, Illinois, hopped to the challenge of bringing smiles to young congregants on Easter Sunday. City Church's annual 5,000-egg hunt was canceled because of the coronavirus, so Pastor Shane Hawkins and Children's Pastor Nate Springer donned bunny costumes and delivered treats to 72 homes. On social media, Springer shared photos and praised Hawkins, writing, "Many Pastors would send their kids pastor out dressed as a bunny to hand out Easter baskets. Not many pastors would insist on going with you and dressing as a bunny themselves."