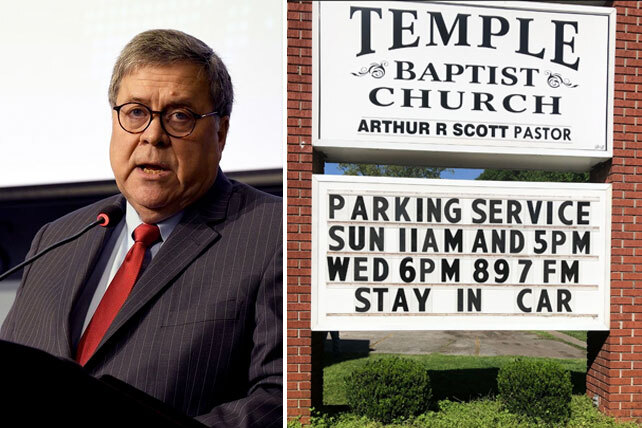 Last week, a church in Greenville, Mississippi held a drive-in prayer service for its parishioners. Church members kept their windows rolled up as they listened to their pastor via radio. Despite not appearing to violate CDC guidelines for social distancing, however, local officials handed out $500 fines to the congregants. Although the city has since decided not to enforce the fines, the situation prompted U.S. Attorney General William Barr to take action by publishing a statement in support of Temple Baptist Church and the right of all churches not to be singled out by authorities during this time of social distancing orders. 
Temple Baptist Church Defended by William Barr
"The City of Greenville fined congregants $500 per person for attending these parking lot services–while permitting citizens to attend nearby drive-in restaurants, even with their windows open," the statement from Barr's office reads. Barr indicates the crux of the reason he found fault with the city's actions is that they didn't enforce their policy "evenhandedly" and singled out the church over other institutions in the city.
The statement echoes the statements of other leaders in the Trump Administration who have asked organizations, including churches, to observe social distancing protocols as a matter of common sense, even while some argue that they violate our rights as Americans to assemble and congregate:
Social distancing, while difficult and unfamiliar for a nation that has long prided itself on the strength of its voluntary associations, has the potential to save hundreds of thousands of American lives from an imminent threat.  Scrupulously observing these guidelines is the best path to swiftly ending COVID-19's profound disruptions to our national life and resuming the normal economic life of our country. Citizens who seek to do otherwise are not merely assuming risk with respect to themselves, but are exposing others to danger.  In exigent circumstances, when the community as a whole faces an impending harm of this magnitude, and where the measures are tailored to meeting the imminent danger, the constitution does allow some temporary restriction on our liberties that would not be tolerated in normal circumstances. 
Other Trump administration leaders, like Vice President Mike Pence, have asked churches to follow the guidelines from the CDC–specifically the one asking people not to gather in groups of 10 or more. Speaking to reporters a couple weeks ago, Pence admitted these protocols are not being mandated; rather they are recommendations.
Pence also said the Trump Administration is not interested in enforcing these guidelines, choosing instead to leave those decisions to governors and other local state officials. The fact that Barr's office felt it necessary to intervene in the case in Mississippi is perhaps a reflection of the administration's highly publicized commitment to religious freedom.
What Exactly Happened in Mississippi?
Police came to the parking lot of Temple Baptist Church in Greenville, Mississippi on Wednesday, April 8, 2020 and issued tickets to those participating in the church's drive-in prayer service. Pastor Arthur Scott has been conducting such services for about three weeks now as most in his congregation are elderly and don't have access to a smartphone. The church has also been livestreaming its Sunday services via Facebook.
However, on April 7, 2020, the City of Greenville issued an executive order instructing churches to cease all in-person services–including drive-in services–until Mississippi Governor Tate Reeves lifts the shelter-in-place order. 
Scott responded to the fines by filing a lawsuit against the city with the help of Alliance Defending Freedom. Speaking to Fox News, Scott implied there is a double standard in place in Greenville: "Just two blocks down the street, the Sonic, they can sit there and talk and eat, but a couple blocks up the other way, they can't even come with the windows rolled up, with me preaching inside the church." 
Greenville Mayor Errick Simmons held a press briefing on Monday, April 13, 2020 to address the situation. "Our churches are a cornerstone in our community. Our faith based leaders have been creative and innovative in their practice of social distancing through the use of electronic, social media, and other platforms during this pandemic," he said. He went on to say the situation with Temple Baptist "has been taken out of context" and that "it's a misrepresentation of the officers, this council and this mayor." Simmons told the group he attends a church himself.
Simmons also said those issued tickets during the April 8th service would not be required to pay them, although the directive that churches suspend all drive-in services still stands for the time being. However, Simmons said he is seeking "definitive guidance" from the Governor's office about drive-in services in particular.