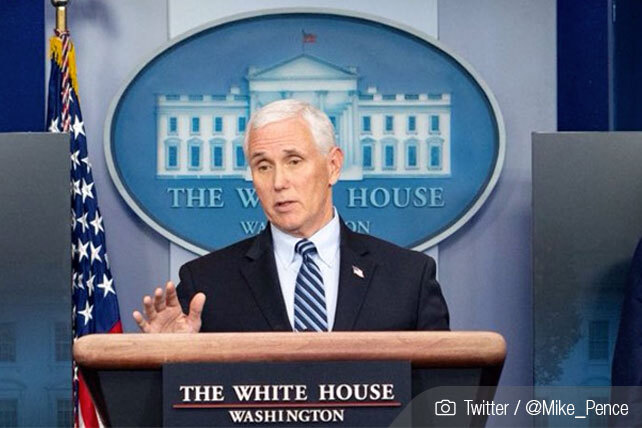 A pastor who claims Virginia's governor violated his congregation's religious liberties now has the backing of Vice President Mike Pence and the U.S. Department of Justice (DOJ). Pastor Kevin Wilson of Lighthouse Fellowship Church of Chincoteague, on Virginia's Eastern Shore, faces a misdemeanor charge for violating Gov. Ralph Northam's executive order that limits in-person gatherings to no more than 10 people.
Palm Sunday Service Had 16 Worshipers
On April 5, Lighthouse held a Palm Sunday service, with 16 people inside its 225-seat facility. Church representatives say building surfaces had been cleaned, and attendees practiced social distancing and applied hand sanitizer.
Before the service, a police officer informed a church official about the 10-person limit. Afterward, two officers served Pastor Wilson with a summons. His case is scheduled to be heard in July, and he could face up to a year in jail and a fine of up to $2,500. According to the church's complaint, an officer also told Wilson that if more than 10 people attended Easter worship, everyone there would face charges.
In its federal lawsuit against the governor, Lighthouse says most of its congregants are "socioeconomically disadvantaged" people who are "trying to put their lives together." For many of them, the church notes, "Lighthouse is their only family, and assembling with their church family is everything." Many of them also lack or can't afford internet access.
VP Pence Calls Sanction 'beyond the pale'
Addressing the controversy this week on Brian Kilmeade's radio program, Pence said, "The very idea that the Commonwealth of Virginia would sanction a church for having 16 people come to a Palm Sunday service, when I think the church actually seats about 250, was just beyond the pale." The vice president added that Americans enjoy religious liberties "even in the midst of a national emergency" and the Trump administration will "stand by men and women of faith of every religion in this country and protect…their freedom of religion."
In its court filing in support of Lighthouse, the DOJ argues that Virginia "cannot treat religious gatherings less favorably than other similar, secular gatherings." It also maintains that the church's case shows that Northam's order "impermissibly interfered with the church's free exercise of religion." The DOJ's Statement of Interest continues: "It thus becomes the Commonwealth's burden to demonstrate that it has compelling reasons to treat Plaintiff differently than similar nonreligious businesses, and that it has pursued its objectives through the least restrictive means."
Lighthouse and Wilson are being represented by Liberty Counsel, a Florida-based religious-liberty law firm. In the church's complaint, attorneys included photos of crowded parking lots at big-box stores plus a photo of 20 people attending Northam's April 8 news conference. The complaint also notes that staff members count in the 10-person limit for churches but not for nonessential retailers.
Attorney Matt Staver of Liberty says Virginia's governor "clearly discriminated against Lighthouse Fellowship Church, which provides essential physical, emotional, and spiritual services to the community. We must balance the First Amendment with protecting the health and welfare of people, but picking an arbitrary number of 10 people for every church is not the answer."