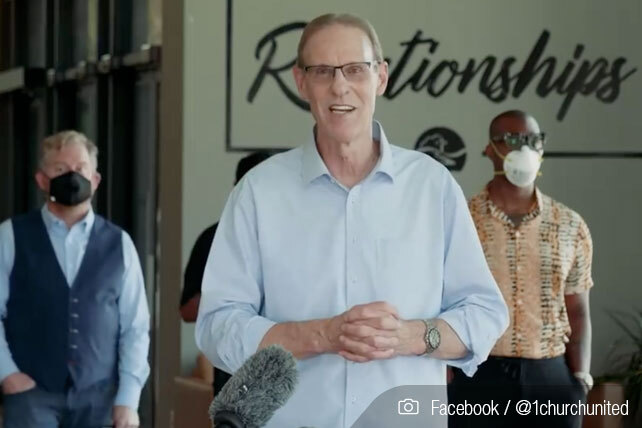 In California, churches on both sides of the "when to reopen" debate are basing their arguments on service. A large network of churches in California that aims to resume in-person worship by Pentecost says its goal is to serve and love the needy, while pastors planning to open church gradually or keep doors closed say they're serving by protecting people's health.
Gavin Newsom, California's Democratic governor, recently moved the state to a "phase two" status, allowing some retailers to open under tight restrictions. He hasn't yet indicated a timeframe for phase three, which includes reopening restaurants and churches. Last week, a federal judge ruled that Newsom has the authority to prohibit church gatherings during the pandemic to safeguard Californians' health.
We're Essential, Says Church United
Church United, a network of 3,000 evangelical churches in California, has announced its congregations won't wait for the governor's permission. Instead, the group that includes about 2.5 million churchgoers says communal worship will begin by May 31, Pentecost Sunday. Network leaders say they're not trying to defy authority or spark a legal battle; instead, they maintain that churches must engage in their essential services.
"Our churches are part of the answer, not part of the problem," says Danny Carroll, pastor of Water of Life Community Church in Fontana, California. "We're an essential part of this whole journey, and we've been bypassed…kicked to the curb and deemed nonessential." Carroll adds that churches are family, not "a gathering of strangers" such as fans at sporting events.
During a press conference last week, Carroll said lockdowns are making church leaders of all faiths feel marginalized. And many of the people who seek help from churches, including those suffering from grief and various addictions, also are being marginalized. "Churches are ready to roll out, no matter what," Carroll says, adding, "We're not here to be activists, we're not here to be rebels, we're here to be helpers."
"How can the church not be essential?" asks California pastor Jim Domen. "It's the heart of Jesus to love and care for all people. The heart of God supersedes government."
Matt Brown, pastor of the multi-site Sandals Church, says his congregants have been making masks, feeding people, and setting up technology for older people—all while maintaining social distance. The governor "has no problem with all of that," Brown says, "but when we want to gather to worship, he has a problem."
Gov. Newsom, who has met with faith leaders and acknowledges their contributions during the pandemic, says, "I'm very sensitive to those who want to get back to church, but the health of those communities is foundational." The fear is that congregations gather "in a closed space at a large scale," he says, adding that his team is consulting with faith leaders about unique safety conditions in their facilities.
Attorneys for Church United have started a petition to the governor, declaring that churches are essential.
Let's Proceed Gradually, Say Others
Meanwhile, other church leaders are asking California's leaders to support "measured and responsible steps" for resuming in-person worship. In a recent statement, the Rev. Samuel Rodriguez, president of the National Hispanic Christian Leadership Conference, and Dr. John Jackson, president of California's William Jessup University, propose a plan that moves from churches being filled at 50 percent capacity during the second half of May to 75 percent in June and then 100 percent by July. The plan includes following sanitizing protocols, wearing masks, and adhering to other local guidelines.