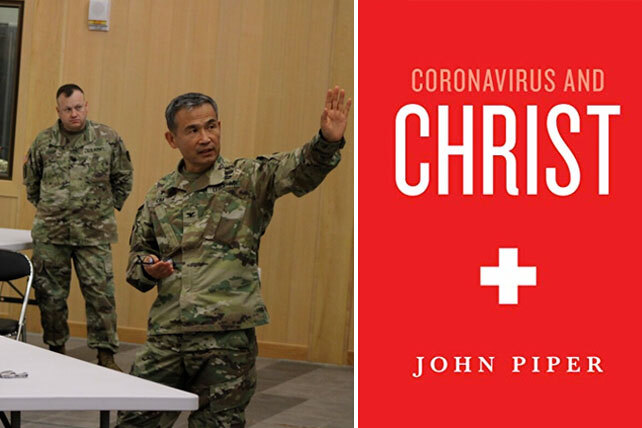 Camp Humphreys garrison chaplain Col. Moon H. Kim is the target of a complaint letter regarding his recommendation of John Piper's free online book: "Coronavirus and Christ." According to ArmyTimes.com, the Military Religious Freedom Foundation (MRFF)  has called for an investigation into Col. Kim who serves as the Senior Chaplain at the largest U.S. military installation outside of the United States.
Col. Kim shared the book in an email to 35 chaplains in what the MRFF perceives as a tacit endorsement of all Piper's views. The complaint takes specific issue with Piper's assertion that the current global pandemic is part of God's judgment.
Camp Humphreys Garrison Chaplain's Actions 'Deplorable'
The complaint letter to Defense Secretary Mark Esper from MRFF's founder and president Michael Weinstein begins: "I write to you today regarding an absolutely egregious and deplorable act taken by one of your most senior DoD chaplains serving today. A number of Christian military Chaplains from the U.S. Army, U.S. Navy, and U.S. Air Force have asked the Military Religious Freedom Foundation (MRFF) to represent them regarding their collective outrage about this matter, and feel that they would be subjected to reprisal, retribution, revenge, and retaliation if they attempted to register their objections via the chain of command without anonymity."
Weinstein upholds Piper's right to his views and Kim's rights to his beliefs. Where he draws the line is "that Chaplain (Colonel) Kim shares a document which propagate beliefs in vulgar contradiction to DoD and Army regulatory policy and the UCMJ and sends it out in his supervisorial capacity as THE Senior Chaplain at USAG Humphreys is in direct and wretched opposition to good order, morale, unit cohesion, and discipline. Indeed, it irrefutably establishes, by the very nature embedded in the power of his office, that this book by John Piper is his established or preferred view."
The MRFF strongly explains that John Piper's doctrinal position is not consistent with those of all serving military chaplains. Weinstein writes, "The book, pushing the belief that the Coronavirus is God's judgment, is written by fundamentalist Christian preacher and author John Piper, and singles out, among other things, 'the sin of homosexual intercourse' as deserving 'due penalty.' Many of the Chaplains who received this unsolicited book from Chaplain (Colonel) Kim are from mainline and Progressive Christian denominations which do not subscribe to the ultra conservative/Reformed/evangelical Christian theology of John Piper."
Weinstein asks the Defense Secretary: "Is Chaplain (Colonel) Kim stating that this is THE preferred and established theology? Are military Chaplains of lesser power and rank free to raise their concerns and differ in the midst of a male, conservative/reformed/evangelical dominated, fundamentalist Christian technical Chaplain Chain? Those military Christian Chaplains on the receiving end of Chaplain (Colonel) Kim's gross malfeasance, who have asked MRFF to speak for them, don't think so."
Weinstein closes with this demand: "MRFF demands that Army Chaplain (Colonel) Kim be officially, swiftly, aggressively, and visibly investigated and disciplined in punishment for his deplorable actions described above."
John Piper Responds to the Complaints
What are the assertions that John Piper makes in his Coronavirus and Christ book and how does he respond?
In the May 11, 2020, episode of Ask Pastor John on DesiringGod.org, Piper addresses several issues. [This conversation contains excerpts from the audio transcript on the site.]
Q: As you read this response, what do you think of how you are quoted and interpreted? And is the letter a fair interpretation of your book?
Piper: Well, Tony, some of it is. I think it would be fair to say that some of my views about what the Bible teaches, even rightly understood, the author of that letter hates; he hates what I think. "They are," he says, "incendiary," "bigoted," "vulgar"—not just because he misunderstands, but, in part, because he does understand, and that's how he thinks and feels about some of what the Bible teaches. For example: