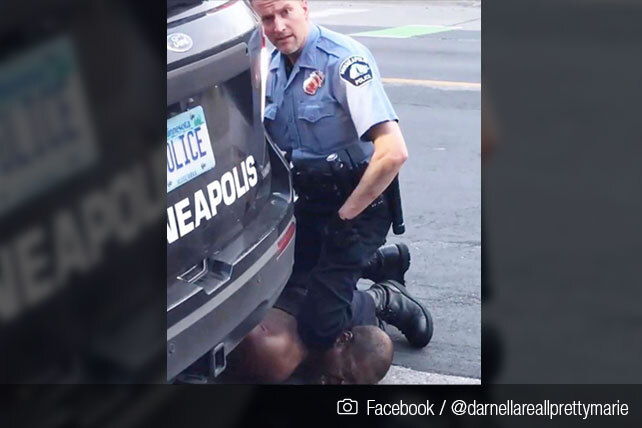 Christian leaders are crying foul after the United States witnessed yet another example of a person made in God's image being treated inhumanely and consequently losing his life. A bystander filmed a video of a man, later identified as George Floyd, being pinned face down to the asphalt by a Minneapolis police officer. The police officer immobilized Floyd by placing his knee on the back of Floyd's neck. In the first few minutes of the video, Floyd can be heard pleading for the officer to release him because he can't breathe. "Please, please, I can't breathe. Please, man, please," Floyd is heard saying.
According to the Minneapolis police department's report of the incident, police were called after receiving "a report of a forgery in progress" at a grocery store. They were informed the suspect, Floyd, was outside the shop and allegedly under the influence. According to the report, Floyd physically resisted arrest. The report also says the police officers called an ambulance because Floyd was suffering "medical distress."
Video Calls Minneapolis Police Report Into Question
However, the video raises a lot of questions about why the police officers felt they needed to use force against Floyd. For all intents and purposes, the video leaves no doubt as to how Floyd came to be medically distressed. [Please note: we are not linking to the video, which was published to Facebook by Darnella Frazier, due to its graphic nature.]
The video starts with Floyd already lying on the street, an officer sitting on top of him and another officer with his knee in Floyd's neck. This lasts for at least five minutes. Bystanders, including a woman who identified herself as a firefighter, are seen arguing with the police officers involved. The woman and another male bystander become increasingly agitated as they repeatedly ask officers to check Floyd's pulse after he stops moving. One person points out that Floyd's nose is bleeding. At one point, the officer with his knee on Floyd's neck, identified later as Derek Chauvin, pulls out what appears to be mace when the bystanders move closer, seemingly threatening to spray them if they move any closer.
The end of the video shows Floyd being lifted onto a stretcher by paramedics, completely unresponsive. The police report says "He was transported to Hennepin County Medical Center by ambulance where he died a short time later."
Minnesota's Bureau of Criminal Apprehension (BCA) and the Federal Bureau of Investigation (FBI) are investigating the incident. Meanwhile, Police Chief Medaria Arradondo announced yesterday that the four police officers involved had been placed on "relieved of duty status." In other words, they were fired. Minneapolis Mayor Jacob Frey said that "this officer failed in the most basic human sense" and that "being black in America should not be a death sentence."
Floyd's death follows the death of Ahmaud Arbery, a young black man who was gunned down while he was jogging by a group of white men who suspected him of theft.
'Big Floyd' Remembered by Friends and Family Members
Those who knew "Big Floyd" personally are concerned with how their friend and family member might be portrayed, either by the police department or the officers involved. They are sharing stories about a man who, according to one friend, moved to Minneapolis to turn his life around. Vanita Williams told BuzzFeed News that Floyd was working as a security guard at a homeless shelter in an effort to give back and help other people.
"He was articulate, he was grounded, he was spiritual, he was an athlete, he was an organizer, he was a comforter, he was an encourager," said Williams. "I could just go on and on and on about who he was. That guy did not deserve to die like that."
Bridgett Floyd, George Floyd's sister, told the Today Show that her brother was a man of faith. "Faith is something that me and my brother always talked about because he was a God-fearing man regardless of what he done." Bridgett believes she and her family will see justice. "I believe that justice will be served. I have enough faith to stand on it."