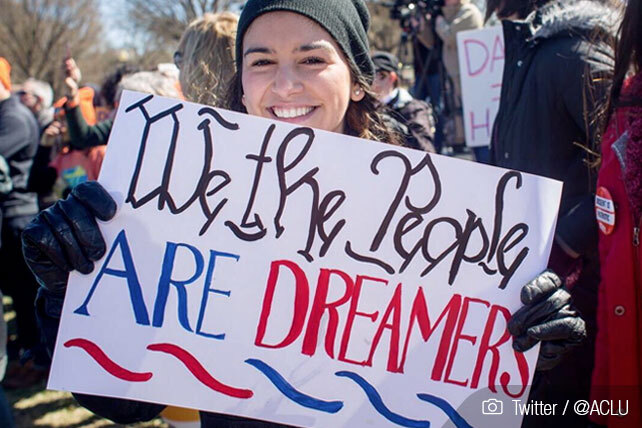 The Supreme Court of the United States (SCOTUS) decided to block the Trump Administration's attempt to end the Deferred Action for Childhood Arrivals (DACA) program. Ruling on the side of Dreamers, as the recipients of DACA are known, SCOTUS' DACA decision determined the federal government's action to rescind DACA was "arbitrary and capricious."
"Today's Supreme Court decision gives a much-needed reprieve to the many DACA recipients in our churches and communities who have been stuck in legal limbo waiting for our nation to recognize that America is their rightful home," Rev. Samuel Rodriguez, president of the National Hispanic Christian Leadership Conference, wrote in a press release.
Started in 2012 by an executive order of President Obama, DACA gives temporary protection from deportation to people who were brought to the U.S. illegally as children. Recipients of DACA, Dreamers, are allowed to work legally and apply for college loans if they pass a background check and meet certain requirements. According to SCOTUS' decision, there are approximately 700,000 Dreamers currently registered in the United States. As President Obama noted in 2012, however, DACA is a "stopgap" measure and is not a permanent solution for Dreamers.
The Supreme Court DACA Decision
In his 2016 presidential election campaign, then-candidate Donald Trump promised supporters he would end DACA and impose cuts to legal immigration. In September 2017, Acting Secretary of Homeland Security, Elaine Duke, acting under the advice of Attorney General Jeff Sessions, announced that the DACA program was terminated. Multiple groups of plaintiffs, including the Regents of the University of California and National Association for the Advancement of Colored People (NAACP) challenged Duke's decision. U.S. District courts in California, New York, and the District of Columbia ruled in favor with the plaintiffs, who claimed the decision to rescind DACA was "arbitrary and capricious in violation of the APA [Administrative Procedure Act] and that it infringed the equal protection guarantee of the Fifth Amendment's Due Process Clause." In other words, the courts ruled that while the federal government's Department of Homeland Security (DHS) has the right to rescind DACA, the current administration did not go about it in the proper and legal way.
Duke's announcement and the successive legal fight in the courts left hundreds of thousands of Dreamers in the U.S. in limbo. Working its way up to SCOTUS, the case originally appeared on the court's October 2019 agenda. Today it was announced the court's decision was a five-to-four vote with Chief Justice John Roberts siding with the court's more liberal judges. 
Majority of Americans Support DACA
A POLITICO/Morning Consult poll published earlier this week indicates Americans are largely favorable of DACA. The poll surveyed U.S. voters belonging to a variety of demographics. Three out of four registered voters say Dreamers should be allowed to stay in the U.S., the poll found. Additionally, support for Dreamers among those who voted for Trump in 2016 is high: 69 percent of those voters say Dreamers should be protected. That number is significant since Trump vowed to "immediately terminate" DACA protections during his 2016 election campaign. 
Additionally, a 2018 poll conducted on behalf of NPR showed that 65 percent of Americans support giving legal status to Dreamers. That included 51 percent of Republicans, 66 percent of Independents, and 81 percent of Democrats. A Fox News poll, conducted in 2017, showed even greater support among Americans for granting Dreamers U.S. citizenship. That poll indicated 79 percent of respondents favored granting citizenship. 
Citing the 2018 Cooperative Congressional Election Study (CCES), Ryan Burge, a political science professor at Eastern Illinois University, says DACA enjoys such wide support, even among religious groups, that "you can't find a large religious group in the United States today that is majority opposed" to it.
You can't find a large religious group in the United States today that is majority opposed to #DACA.

Even 56% of white evangelical REPUBLICANS would be in favor today's #DACADecision. pic.twitter.com/wpYDAkwrwD

— Ryan Burge 📊 (@ryanburge) June 18, 2020
No Permanent Solution for Dreamers Yet
Despite the win today, Dreamers are not yet in the clear. A tweet this morning from Trump implies he intends to continue the fight to end the program if reelected.
These horrible & politically charged decisions coming out of the Supreme Court are shotgun blasts into the face of people that are proud to call themselves Republicans or Conservatives. We need more Justices or we will lose our 2nd. Amendment & everything else. Vote Trump 2020!

— Donald J. Trump (@realDonaldTrump) June 18, 2020
Even with the ruling in favor of the program today, Dreamers still don't have a clear path to citizenship. In the past, Trump has said that he would like to see a six-month transition period ending DACA and allowing Congress to have a chance to pass legislation for a more permanent solution for Dreamers. However, the president has also said his support of DACA would come on the condition of funding for his border wall project and further cuts to legal immigration. 
Rev. Rodriguez, while expressing his support of the Supreme Court's decision, emphasized the need for a more permanent solution:
I celebrate this victory with these young men and women and their families. They are a blessing, not a curse, to our nation. Yet we cannot lose sight of what's really not working here: this was the job of Congress, not the executive or judicial branch. It's time for Congress to do their job and to fix our broken immigration system. Congress must stop passing that responsibility to the other branches of government. Congress could have achieved this on at least three occasions over the last three years and on each occasion they opted for political expediency over justice.