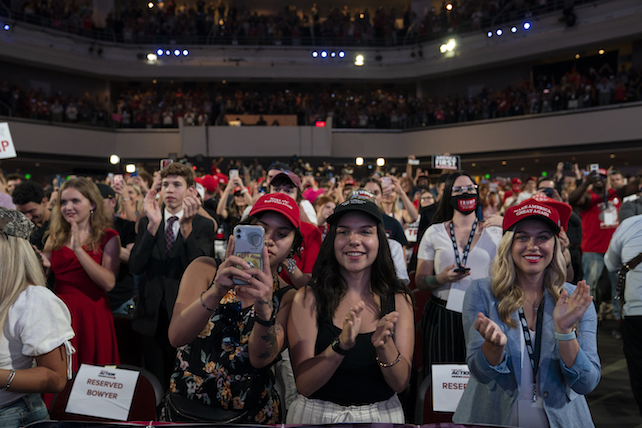 After receiving widespread criticism, Arizona megachurch Dream City Church and the maker of an air-filtration system the church both walked back claims about preventing the spread of COVID-19. Phoenix-based Dream City Church, which hosted a Students for Trump rally on Tuesday, had been plugging a system from Clean Air EXP, saying it can kill "99 percent of COVID within 10 minutes."
In a video that went viral Sunday, senior pastor Luke Barnett said, "When you come into our auditorium, 99 percent of COVID is gone, killed, if it was there in the first place. So you can know when you come here, you'll be safe and protected." He added, "Thank God for great technology, and thank God for being proactive." Church COO Brendan Zastro, who also appeared in the video, explained the purification system works through "ionization of the air."
Dream City Church Tries to Clear the Air About Safety Claim
For many viewers, those claims seemed too good to be true, and experts soon confirmed they were. The company's tests were conducted only on coronavirus "surrogates," not specifically on COVID-19. Also, tests were done in a sealed laboratory, a much different setting from a public building.
In response to the uproar, Clean Air EXP released a statement about "recent confusion around the claims made by one of our customers." It clarified that its product doesn't "eliminate COVID-19 at this time" and that the company supports CDC guidelines "on hygiene habits to prevent the spread" of the novel coronavirus.
The church also posted a clarification, saying: "Our statement regarding the CleanAir EXP units used the word COVID when we should have said Coronavirus or COVID surrogates. We hope to alleviate any confusion we may have caused." Dream City added that it is "committed to fostering the cleanest, safest environment for our church congregation and facility event rentals."
Avoid a False Sense of Security, Warn Scientists
Baram Zargar, whose company tests air-filtration systems, says "many good technologies" exist, but expanded testing is necessary. "It's not a good idea to not wear masks," he says. "If you installed the best device in the world, if someone who's infected steps into the church, definitely other people can be infected."
Microbiology professor Philip Tierno, known as "Dr. Germ," refutes the notion that ionization protects people in crowds. When asked about the claims of Dream City Church, he told the Phoenix New Times, "The short answer to your question is no… When you are dealing with hundreds or thousands of people in an auditorium, some of whom will carry the virus, you will not be absolutely protected." Organizations, Tierno added, shouldn't "present false hope to attendees by spreading false statements."
With COVID-19 spreading rapidly in the Sun Belt, Arizona officials had voiced concerns about Trump's rally at Dream City Church's 3,000-seat auditorium. Organizers say they conducted temperature checks and handed out masks, but news footage showed few attendees wearing face coverings.
Health experts, who've made dire predictions this week about the pandemic, continue to urge social distancing and mask-wearing. But face masks have become politicized, with some people saying requirements to wear them impinge on freedoms.