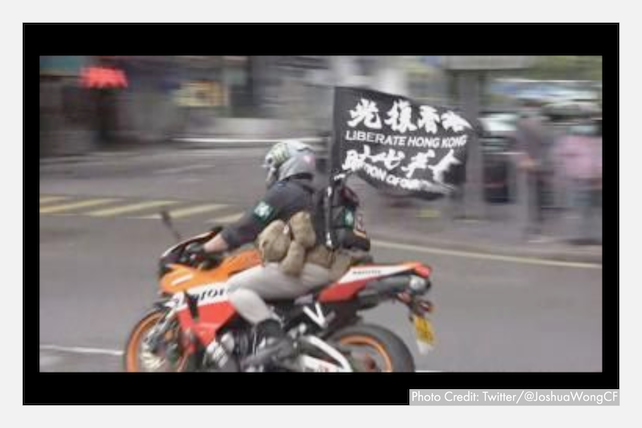 China is tightening its grip around Hong Kong with a new National Security Law that was passed, virtually without input from Hong Kong leaders, yesterday in Beijing. Amnesty International calls the new law "the greatest threat to human rights in the city's recent history." 
"The speed and secrecy with which China has pushed through this legislation intensifies the fear that Beijing has calculatingly created a weapon of repression to be used against government critics, including people who are merely expressing their views or protesting peacefully," Joshua Rosenzweig, Amnesty International's head of China team, told reporters.
Protests started following the announcement of the National Security Law, which passed unanimously in Beijing's Standing Committee of the National People's Congress and which President Xi Jinping signed into law on Tuesday, June 30, 2020. The new law will be added to Hong Kong's constitution, known as the Basic Law. 
The new law is designed to deter subversive, secessionist, and terrorist activities within Hong Kong. It also seeks to deter foreign intervention in the city's affairs. It is hard not to see it as a punishment for citizens' participation in the 2019 protests, which were sparked by a controversial extradition law which would have allowed Hongkongers to be tried by a Chinese court had they broken a law. 
People in Hong Kong fear that speaking out will soon become a crime. Everything you need to know about Hong Kong's National Security Law: pic.twitter.com/X6eMyO5gF8

— Amnesty International USA (@amnestyusa) July 2, 2020
Many saw the proposed extradition law as Beijing's attempt to renege on its "one country, two systems" policy that it adopted 23 years ago when the city moved out from under British control back to Chinese control. Now those same fears are being stirred with this new law and all it entails. An argument can be made that the National Security Law is an extradition law on steroids.
Under the National Security Law, bounties are being offered (up to HK$1 million or US$129,000) to those who provide information aiding the arrest of violators. Additionally, the new law allows for the Chinese government to set up a security office in Hong Kong. Further, security personnel from mainland China will be allowed to operate without impunity. 
As the NPC Observer, a group of legal experts hailing from the U.S. and Hong Kong, points out that the law is written in such a broad way that its application could be quite far-reaching. The NPC Observer also expresses its concern that those found in violation of the law will likely not face what most of us in the west consider a just and fair criminal process.
Resistance Groups Disband
Demosisto and Studentlocalism, two pro-democracy groups started by young Hongkongers, have disbanded after news of the new law emerged. "Demosisto believes that the operation of our group will no longer be sustainable, with a strong feeling there is a need to fragment, so that everyone can continue with the resistance in a more flexible manner," an update on the group's Facebook page reads. 
Joshua Wong, a young Hong Konger who was key in last year's demonstrations and also the leader of Demosisto, announced he was stepping down from his leadership role shortly before the new law was signed into law. Wong has intimated that as someone who has sought foreign help in Hong Kong's fight for freedom, he would likely be a prime target of the new law. In fact, if the law is applied retroactively, Wong, who was detained during last year's demonstrations, may already be in serious trouble. 
Protestors and Demonstrators Are Being Arrested
As people took to the streets in Hong Kong today to commemorate the handoff of Hong Kong from Britain back to China in 1997, things took a violent turn.
China's sweeping new national-security law for Hong Kong took effect in the global financial hub Wednesday. It is expected to mark the biggest change in the freewheeling former British colony since it returned to Chinese rule in 1997 https://t.co/go5N5kPa0c pic.twitter.com/3kJVitlppP

— Reuters (@Reuters) July 1, 2020
According to journalist Ezra Cheung, someone has already been arrested for violating the new law after he was found with a Hong Kong independence flag. 
#BREAKING: A man was found having a "Hong Kong independence" flag in his bag as being stopped and searched by the police in Causeway Bay. He's become the first person arrested for violating the new national security law since it was enacted for about 14 hours. #HongKongProstests pic.twitter.com/iM6zqwLd6p

— Ezra Cheung (@ezracheungtoto) July 1, 2020
According to police sources, anyone who possesses the independence flag or chants for independence during the July 1 rally will be arrested.

This comes as police said it will "strictly enforce" the new national security law, the content of which was only made public at 11pm. https://t.co/WL41zL3lKq

— Eric Cheung (@EricCheungwc) July 1, 2020
Hong Kong Christians Stand to Lose Freedom
Christians make up about 12 percent of Hong Kong's population of 7.5 million people. If Hong Kong were to be subjected to the same laws as mainland China, the church would lose a significant amount of the freedom it currently experiences. To put it succinctly, the church in Hong Kong would lose much more than their right to assemble if Hong Kong's laws are amended to reflect Beijing's policy toward religious groups.
Standing in solidarity with their brothers and sisters, along with the potential to lose their religious freedom is what compelled Christians and church leaders to join the protests last year. While protests are ramping up again, churches will doubtless join the fray once again.