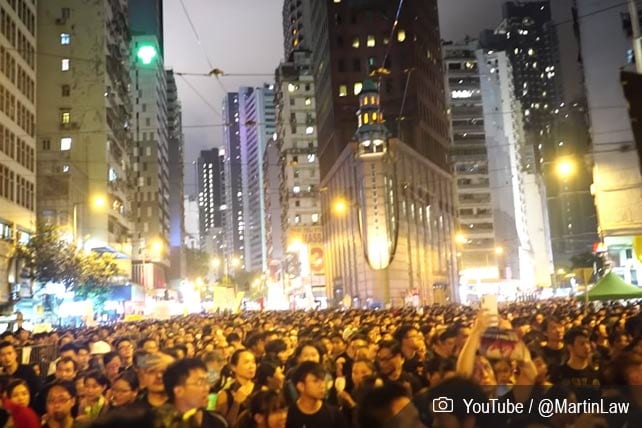 If Hong Kong's fight for democracy is trampled by Beijing, Christians have a lot to lose. The fear of this possibility, along with their faith in Christ, compels Christians in Hong Kong to play a vital role in the pro-democracy protests that have been going on for 12 weeks now. A meeting at Hong Kong's Chater Garden last Friday marked the first time several churches came together publicly and deliberately to lend their voices and presence to the Hong Kong protests.
Hundreds of Christians at Chater Garden singing. They will stay put at 8pm to hold hands. Meanwhile, people lining up on Chater Road. #TheHongKongWay #hongkong pic.twitter.com/T2wWvLmiK9

— Shirley Lau (@lauinhk) August 23, 2019
Christians Join Hong Kong Protests
"Salt and light, for justice we walk together," was the meeting's motto. A press release for the meeting explained the rally was designed to give Christians a platform to "express themselves outside the church." Rally organizers encouraged Christians to "safeguard Hong Kong by singing, praying, worshipping God and at the same time speaking up for justice and standing together with all the Hongkongers in difficult times."
The protests started in June when Hong Kong's rulers–which are technically elected by Hong Kongers, but only after they've been approved by China's seat of power, Beijing–put forth a bill that would allow for the extradition of offenders in Hong Kong and other Chinese territories to mainland China. On Saturday, June 15th, after a surprising 1.03 million people took to the streets in protest, Hong Kong's Chief Executive, Carrie Lam, announced the bill would be shelved, indicating it likely won't be passed this year. For the protestors, though, that announcement was not enough. The protestors are calling for Lam's resignation as well as other measures that will ensure the "one country, two systems" policy will remain intact. 
Christians, in particular, hold a wild card in the protests. There are laws in place to discourage public assembly in Hong Kong, but the laws include an exemption for religious gatherings. In theory, this means religious groups such as churches could potentially assemble to protest without fear of the police breaking up their meeting. However, the fear of police brutality is high in Hong Kong at the moment. 
Early on in the Hong Kong protests, the hymn "Sing Hallelujah to the Lord" became an unofficial anthem of the pro-democracy movement. Videos show Christians and non-Christians alike singing the hymn in front of police barricades and as they march down crowded Hong Kong streets. 
The Hong Kong Protests Intensify
While Christians are committed to protesting peacefully, last weekend saw some of the most violent clashes between protestors and riot police. Protestors can be seen in videos throwing bricks and petrol bombs at police, while police fire back with tear gas, rubber bullets, and water cannons. Several weeks ago, a woman lost an eye to a rubber bullet, which is why you may see images of protestors covering one eye with their hands. 
Scenes from #HongKong's Yuen Long MTR station before it got messy. More than a thousand people – at times, silent – protested against increasingly violent clashes with police. They covered one eye as homage to a young woman who suffered a brutal eye injury at a protest. @NBCNews pic.twitter.com/ME92bvdIu3

— Janis Mackey Frayer (@janisfrayer) August 22, 2019

Friday, August 23, 2019 was the 30th anniversary of one of the biggest anti-Soviet protests. The Baltic Way was a peaceful protest utilizing a human chain. Hong Kongers acknowledged the anniversary by following suit. They formed a human chain that stretched nearly 22 miles across various areas of the city. Some Christians who attended the Chater Garden meeting also joined in the "Hong Kong Way" demonstration. 
Scenes of the Hong Kong Way human chain on Friday night at Kwun Tong.#hongkong #antiELAB #china pic.twitter.com/wRkPqLsDWO

— Hong Kong Free Press (@HongKongFP) August 23, 2019
Which Churches Have Joined in the Hong Kong Protests?
Christian organizations that have officially voiced concern over the extradition bill that sparked the protests include the Hong Kong Christian Council, the Catholic Diocese, the Baptist Convention of Hong Kong, and the Christian & Missionary Alliance Church Union of Hong Kong. They are encouraging protestors to use peaceful means as they join the movement. Cardinal John Tong of the Catholic Diocese has also asked for an independent inquiry into the excessive use of force by police. 
The Anglican church in Hong Kong, however, has not backed the protests. Dr. Paul Kwong, Hong Kong's Anglican Archbishop, urged protestors to "calm down" and refrain from resorting to violence as they express their concerns. In June, Kwong suggested people, especially young people, "express their demands through legal and legitimate channels and means." 
People around the world have held demonstrations in support of the Hong Kong protests, including a Chinese congregation in Vancouver, Canada, that held a prayer meeting for the situation in Hong Kong. Church members were stunned with pro-China activists showed up outside their church, seemingly to intimidate them. The situation reminds us that the global church is a very connected, organic institution. Perhaps more than any other group in Hong Kong, the church in Hong Kong has a breadth of support in the global church. 
Christians make up about 12 percent of Hong Kong's population of 7.5 million people. If Hong Kong were to be subjected to the same laws as mainland China, the church would lose a significant amount of the freedom it currently experiences. To put it succinctly, the church in Hong Kong would lose much more than their right to assemble if Hong Kong's laws are amended to reflect Beijing's policy toward religious groups.
Christian persecution in China is a topic that ChurchLeaders has covered extensively, and the examples of rights violations for Christians in China number too many to count. Recently, we have learned of Chinese pastors being subjected to mandatory training from the government which essentially directs them to use their services as glorified endorsements of the Chinese Communist Party (CCP). Churches in China that are not registered with the government (the so-called underground church) are also subject to frequent raids, arrests, and monitoring by police and government officials. 
Hopefully, the church in Hong Kong will be spared such oppressive treatment.